SEA SALT, THAI GINGER - Gluten Free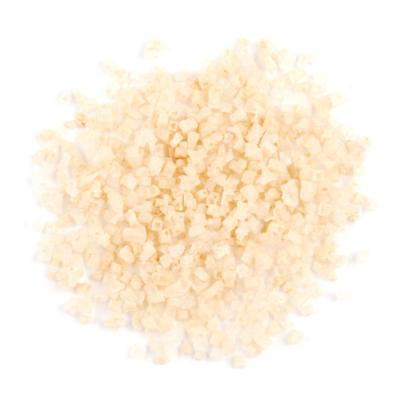 ---
SEA SALT, THAI GINGER - Gluten Free
THAIGINGSALT-24
Description:

This delicate yet flavorful blend of Pure Bali sea salt and naturally dried and ground ginger root is a delicious method of adding flavor to everything from lightly toasted nuts to vegetables with butter. Bali sea salt is made during the dry summer months from evaporated sea water and is known for its delightfully crunchy texture. This product can be labeled as All Natural.
Ingredient Statement:
Sea Salt, Ginger.
Thai Ginger Salt will add a savory flavor to grilled or steamed vegetables, seafood, marinades, meat rubs and salad dressings. Sprinkle on grilled shrimp with lime juice and serve over pasta for a refreshing treat.
Recommended Preparation Instructions:
Ready for use, just add to recipe.
Product Description
Pure Bali sea salt is carefully combined with naturally dried and ground ginger root to create a flavor of explosion. This versatile salt can be used in products labeled All Natural. The concentrated flavor of the Ginger is a delicious method of adding fresh ginger flavor to your recipes.
Physical
Color: Tannish to light brown color.
Flavor: Typical of salt with a taste of ginger.
Size: 1-2 mm.
Chemical
Moisture: N/A
Sulfites: Negative
Heat Level: N/A
Ingredient Statement:
Sea Salt, Ginger.
Allergen Statement
None.
Packaging & Storage
Shelf Life: 24-36 months (under optimum storage conditions).
Packaging: Plastic jar.
Storage Conditions: Store in a dry, cool place.
About Nutritional Information
Chieftain Wild Rice Company gathers nutritional information from highly regarded sources. Nutritional analysis can vary due to growing conditions, frequency of testing, and other factors.
Nutrition Facts

Serving Size 1.5 g

Amount Per Serving

Calories 0

Calories from Fat 0

 

% Daily Value *

Total Fat 0g

0%

Saturated Fat 0g

0%

Trans Fat 0

 

Cholesterol 0g

0%

Sodium580 mg

24%

Total Carbohydrate 0g

0%

Dietary Fiber 0g

0%

Sugars0 g

 

Protein 0g
 

Vitamin A

0%

Vitamin C

0%

Calcium

0%

Iron

0%

* The Percent Daily Values are based on a 2,000 calorie diet.