PEAS, YELLOW SPLIT - Gluten Free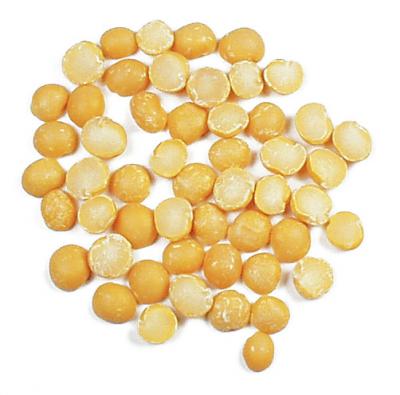 ---
PEAS, YELLOW SPLIT - Gluten Free
SYP-5
Description:

Yellow Split Peas are part of the legume family. When ripe they are husked and split in half. Split peas are pale yellow in color and about ¼ of an inch wide with a mild flavor and soft texture. The Yellow Split Pea has more of an earthy flavor making it more flavorful than the whole dried pea. Similar to the lentil in versatility in cooking and in nourishment, it has been used for centuries as a food staple that was easily available and low cost. Greek and Roman civilizations relied on dried peas as an essential ingredient in their diets. Peas began to be split during the time of ancient Egypt and have been found in Egyptian tombs.
Ingredient Statement:
Yellow Peas.
Commonly used in soups and stews because the peas break apart when cooking and add to the texture. Yellow Split Peas can also be used to make a nutritious dip or spread. Cook el dente and toss in cold salads or mix with rice & orzo pilafs for a splash of color.
Recommended Preparation Instructions:
Yellow Split Peas should not be soaked before cooking. Cook in boiling water for 45-60 minutes. The longer this legume cooks, the more it will break down and cause soups to thicken.
Product Description
Yellow Split Peas are part of the legume family. Peas are dried, husked, and split in half to make split peas. Yellow split peas have about a quarter inch diameter and are a paler yellow color on the flat, split side of the pea. Split Peas have a mild earthy flavor and soft texture.
Physical
Color: Pale to light yellow.
Flavor: Typical of peas.
Size: Approximately ¼ inch in width, husked and split in half.
Chemical
Moisture: N/A
Sulfites: N/A
Heat Level: N/A
Ingredient Statement:
Yellow Peas.
Allergen Statement
None.
Packaging & Storage
Shelf Life: Min 12 months (under optimum storage conditions).
Packaging: Poly bag in box.
Storage Conditions: Store in a dry, cool place.
About Nutritional Information
Chieftain Wild Rice Company gathers nutritional information from highly regarded sources. Nutritional analysis can vary due to growing conditions, frequency of testing, and other factors.
Nutrition Facts

Serving Size 1/4 cuo (35g)

Amount Per Serving

Calories 120

Calories from Fat 0

 

% Daily Value *

Total Fat 0g

0%

Saturated Fat0 g

0%

Trans Fat 0g

 

Cholesterol 0g

0%

Sodium 5mg

0%

Total Carbohydrate 21g

7%

Dietary Fiber 9g

36%

Sugars 3g

 

Protein 9g
 

Vitamin A

1%

Vitamin C

1%

Calcium

2%

Iron

9%

* The Percent Daily Values are based on a 2,000 calorie diet.