ZAHTAR - Kosher/Gluten Free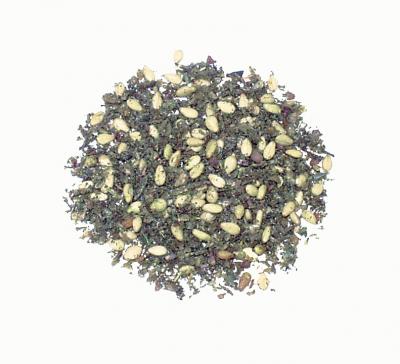 ---
ZAHTAR - Kosher/Gluten Free
ZAHTAR-16
Description:

This agreeable spice blend, adds a warm and earthy flavor to meats, vegetables and dressings. Zahtar is an aromatic herb and spice mixture comprised of toasted Sesame Seeds, powdered Sumac, and Thyme. Popular throughout Turkey and North Africa, this blend can be mixed with olive oil to make a spread for bread or dip. Zahtar is delicious when sprinkled on hummus. 
Ingredient Statement:
Spices, Sesame Seed, Salt, Canola Oil.
Zahtar is tasty on fish or chicken. Mix Zahtar with olive oil to form a paste, then spread on a pita and toast until crisp. Add Zahtar to marinades or salad dressings or sprinkle on meats and vegetables.
Recommended Preparation Instructions:
No preparation is necessary. It can be sprinkled on meatballs or vegetables and used as a dip. It can be mixed to a paste with olive oil and spread on bread before baking.
Product Description
Zahtar is a spice blend from the Middle East. The thyme adds warmth and depth, while the sesame seeds give the blend an earthiness. This blend can be found in recipes from Lebanon and Syria and from Turkey to Iran.
Physical
Color: Mix of light to dark green, beige and brown.
Flavor: Slightly sour, nutty flavor.
Size: Typical of dry spices.
Chemical
Moisture: N/A
Sulfites: N/A
Heat Level: N/A
Ingredient Statement:
Spices,Sesame Seed, Salt, Canola Oil.
Allergen Statement
None.
Packaging & Storage
Shelf Life: Min 12 months (under optimum storage conditions).
Packaging: Plastic jar.
Storage Conditions: Store in a dry, cool place.
About Nutritional Information
Chieftain Wild Rice Company gathers nutritional information from highly regarded sources. Nutritional analysis can vary due to growing conditions, frequency of testing, and other factors.
Nutrition Facts

Serving Size 100g

Amount Per Serving

Calories 282

Calories from Fat 99

 

% Daily Value *

Total Fat 11g

17%

Saturated Fat 4g

20%

Trans Fat 0g

 

Cholesterol 0g

0%

Sodium 53mg

2%

Total Carbohydrate 60g

20%

Dietary Fiber 18g

72%

Sugars 21g

 

Protein 11g
 

Vitamin A

71%

Vitamin C

0%

Calcium

176%

Iron

1022%

* The Percent Daily Values are based on a 2,000 calorie diet.