CORN POLENTA, SOUTHWESTERN GREEN CHILE - Gluten Free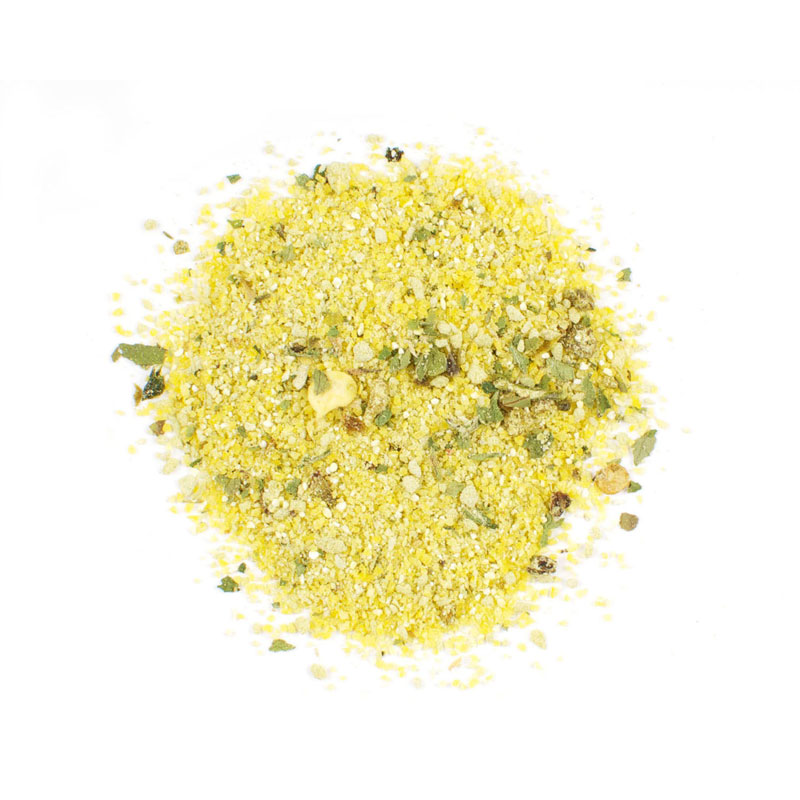 ---
CORN POLENTA, SOUTHWESTERN GREEN CHILE - Gluten Free
SWCHILEPOL-10
Description:

Southwestern Green Chile Polenta is a convenient mix of polenta with the spicy flavor of poblano and jalapeno peppers. This polenta is delicious and can be used as a bedding for vegetables, as a quick and easy side or formed, sliced, and fried.
Ingredient Statement: 
Corn Meal, Parmesan Cheese Buds (maltodextrin, Whey Solids, Natural Parmesan Cheese Flavor, Salt), Spices, Salt, Green Bell Pepper, Contains 2% Or Less Of Spinach, Onion, Tomatillo, Garlic. (Contains Milk)
Spoon steamed or cooked veggies over hot polenta

Add cheese, herbs, or other favorite seasonings

Use polenta as a base for sauces, stews, and thick soups

form polenta and fry until crispy
Recommended Preparation Instructions:
Bring 4 cups of water or stock to a boil; very slowly whisk in 1 cup of polenta. Whisk while simmering for approximately 3 minutes until polenta becomes very thick. To make polenta cakes, pour the cooked polenta into a greased loaf pan and chill for 2 hours. Slice and prepare as desired.
Nutrition Facts
Serving Size 1/4 cup  -  (30g)
Number of Servings
Amount Per Serving
Calories 110
Calories from Fat 10 
 
% Daily Value *
Total Fat  1 g
2%
Saturated Fat  0 g
0%
Monounsaturated Fat 0 g
 
Polyunsaturated Fat  0 g
 
Trans Fat  0 g
 
Cholesterol  0 g
0%
Sodium430  mg
18%
Potassium  0 mg
0%
Total Carbohydrate 22  g
7%
Dietary Fiber  1 g
4%
Sugars 1  g
 
Protein 3 g
 
Vitamin A
15%
Vitamin C
30%
Calcium
2%
Iron
4%
* The Percent Daily Values are based on a 2,000 calorie diet.