FRUIT AND SEED MIX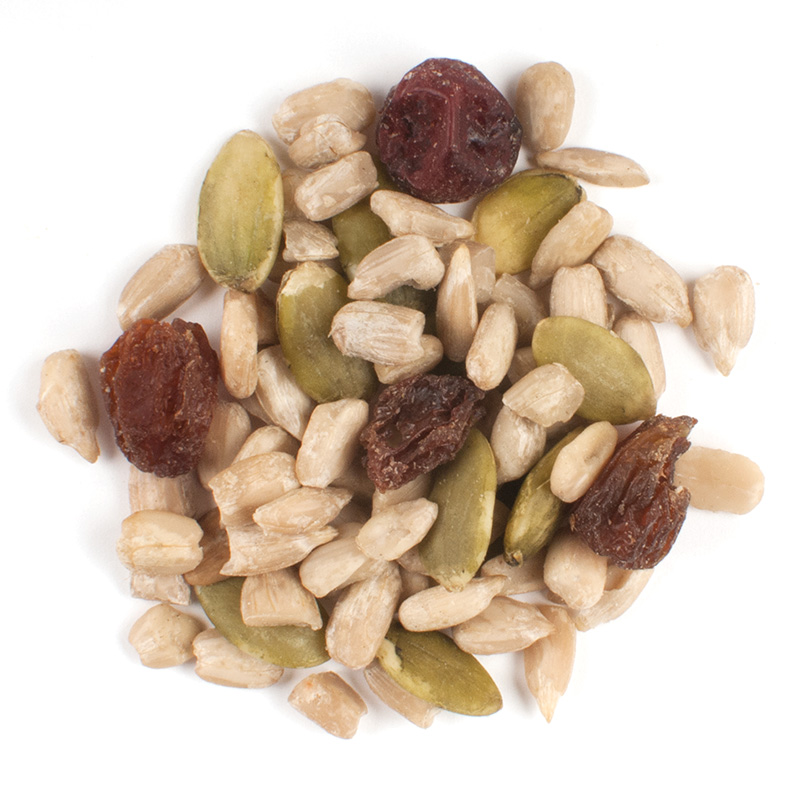 ---
FRUIT AND SEED MIX
FRUITMIX-5
Description:

Fruit and Seed Mix is a sweet and salty snack mix with a blend of tart cranberries and sweet raisins balanced with crisp sunflower seeds and crunchy pumpkin seed kernels. Delicious as a snack but can also be used in stuffing, pilaf, salads, bread, and muffins. 
Ingredient Statement:
Sunflower seeds, oil (cottonseed, sunflower and/or canola), cranberries, raisins, pumpkin seeds, sugar, sunflower, cottonseed, canola and/or palm oil..
• A satisfying salty, sweet snack mix
• Delicious in between meals
• Great accompaniment to cold beverages
• Use as a healthy, crunchy salad topping
Recommended Preparation Instructions:
Ready to use.
Nutrition Facts
Serving Size 1/4 cup  -  (30g)
Number of Servings
Amount Per Serving
Calories 150
Calories from Fat  90 
 
% Daily Value *
Total Fat  10 g
15%
Saturated Fat 1 g
5%
Monounsaturated Fat  0 g
 
Polyunsaturated Fat  0 g
 
Trans Fat  0 g
 
Cholesterol  0 g
0%
Sodium 0 mg
0%
Potassium mg
%
Total Carbohydrate 12 g
4%
Dietary Fiber  2 g
8%
Sugars  7 g
 
Protein 5 g
 
Vitamin A
0%
Vitamin C
0%
Calcium
0%
Iron
8%
* The Percent Daily Values are based on a 2,000 calorie diet.