SPECKLED SUSHI RICE - Kosher/Gluten Free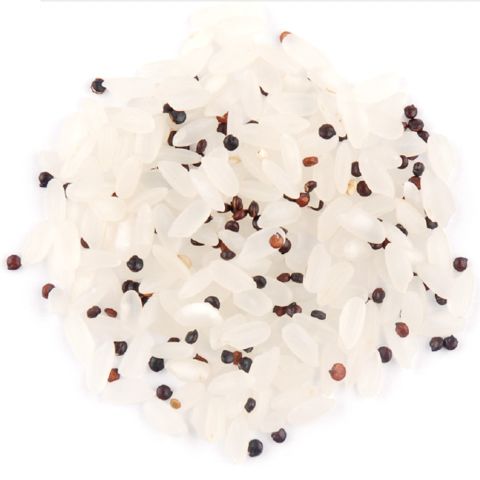 ---
SPECKLED SUSHI RICE - Kosher/Gluten Free
SPSUSHI-10
Description:

Speckled Sushi Rice is a combination of a delicate short grain white sushi style rice that is about 3/16 to 1/4 inch long and black quinoa. Chefs will love the striking plate presentation this blend offers along with its mild, sweet flavor. Visually impressive it offers a bright ivory white color with studs of black for an easy substitute for ordinary sushi rice. 
Ingredient Statement:
Rice, quinoa, canola oil.
Combine with rice, vinegar and sugar to make sushi rolls
• Use as dessert rice in puddings and custard molds
• Delicious alternative to rice or couscous
Recommended Preparation Instructions:
Rinse well. Put 1 cup rice mixture and 2-1/2 cups water in sauce pan, cover with tinfoil & tight fitting lid. Bring to boil then lower and simmer for 20 minutes. Let stand 15 minutes.
x
Nutrition Facts
Serving Size 1/4 cup  - (45g)
Number of Servings
Amount Per Serving
Calories 170
Calories from Fat 10
 
% Daily Value *
Total Fat 1 g
2%
Saturated Fat  0 g
0%
Monounsaturated Fat  0 g
 
Polyunsaturated Fat  0 g
 
Trans Fat  0  g
 
Cholesterol  0 g
0%
Sodium 0 mg
0%
Potassium0 mg
0%
Total Carbohydrate 36  g
12%
Dietary Fiber 1 g
4%
Sugars 0 g
 
Protein 3 g
 
Vitamin A
0%
Vitamin C
0%
Calcium
0%
Iron
4%
* The Percent Daily Values are based on a 2,000 calorie diet.