BOTAN SUSHI RICE - Gluten Free

---
BOTAN SUSHI RICE - Gluten Free
BOT-5
Description:

Botan Sushi Rice is a mildly sweet rice with a glutinous texture that makes it perfect for use in Asian dishes lik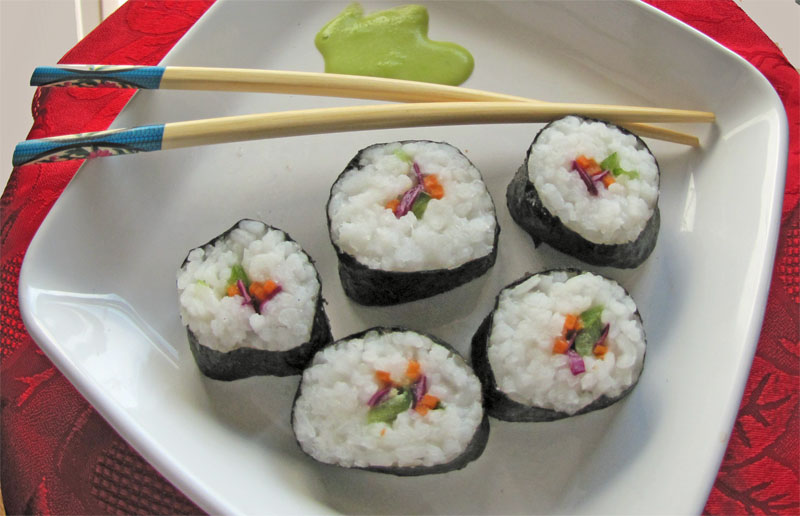 e Sushi. Botan Sushi Rice has small round grains that are ivory colored and become sticky as they cook. To make Sushi you need a rice with the perfect balance of starches to allow the rice to stick together. Botan Sushi Rice is delicious in rice desserts and puddings.
Ingredient Statement:
White Rice.
Sushi Rice is mostly commonly used with a combination of rice, vinegar, and sugar. Sushi Rice can also be used as dessert rice in puddings and custard molds. In some countries Glutinous Rice is also cooked with Coconut Milk and sugar for sweet dishes.
Recommended Preparation Instructions:
Rinse well. Place 1 cup of rice and 2½ cups of water in sauce pan, cover with tight fitting lid. Bring to boil over high heat, then reduce heat to low and simmer for 20 minutes. Let stand 15 minutes.
One cup dry yields 2 cups cooked.
Product Description
Sushi Rice is a type of sticky rice used in Sushi. Sushi Rice is a small, round, ivory colored grain with a mildly sweet flavor. Sushi Rice becomes sticky as it cooks and holds together well. Sushi Rice is a glutinous rice which works well in Asian desserts.
Physical
Color: Ivory.
Flavor: Typical of sushi rice, mildly sweet.
Size: Approximately 3/16 to ¼ inch in length, rice shaped grain.
Chemical
Moisture: N/A
Sulfites: Negative
Heat Level: N/A
Ingredient Statement:
White Rice.
Allergen Statement
None.
Packaging & Storage
Shelf Life: Min. 12 months (under optimum storage conditions).
Packaging: Poly bag in box.
Storage Conditions: Store in a dry, cool place.
About Nutritional Information
Chieftain Wild Rice Company gathers nutritional information from highly regarded sources. Nutritional analysis can vary due to growing conditions, frequency of testing, and other factors.
Nutrition Facts

Serving Size 100g (uncooked)

Amount Per Serving

Calories 359

Calories from Fat 9

 

% Daily Value *

Total Fat 1g

2%

Saturated Fat 0g

0%

Trans Fat 0g

 

Cholesterol 0g

0%

Sodium1 mg

0%

Total Carbohydrate 79g

26%

Dietary Fiber 3g

12%

Sugars 0g

 

Protein 7g
 

Vitamin A

0%

Vitamin C

0%

Calcium

0%

Iron

22%

* The Percent Daily Values are based on a 2,000 calorie diet.