CRANBERRY ( BORLOTTI ) BEANS - Kosher/Gluten Free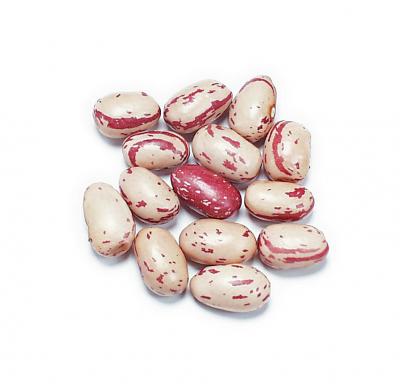 ---
CRANBERRY ( BORLOTTI ) BEANS - Kosher/Gluten Free
CRN-10
Description:

Cranberry Beans (Borlotti beans) are related to the Kidney bean and get their name from their mottled cranberry-red and ivory pinto markings. Cranberry Beans are known for their creamy texture with a sweet, mild flavor similar to chestnuts. They are about ½ inch long and are commonly used in Italian soups and stews. They are also referred to as Borlotti, Crab Eye, Roman, Romano, Rosecoco or Saluggia bean. Served with tomatoes, onions and cinnamon or served in a hearty soup they offer a unique and earthy flavor. Interchange them in recipes calling for Borlotti or Saluggia Beans. Similar to their relatives the Pinto and Kidney bean, they will turn pink when cooked.
Ingredient Statement:
Cranberry (Borlotti) Beans.
Try Cranberry Beans with pasta or in soups and stews. Delicious hot or cold in bean and vegetable salads. Offer a flavorful salad by tossing cooked Cranberry beans with crumbled Gorgonzola cheese, olive oil and a dash of fresh rosemary. For heartier fare try squash, parsnip and Cranberry bean stew. One cup dry yields 3 cups cooked.
Substitutions: Tongues of Fire, Cannellini, Great Northern, Pinto or Chili beans.
Recommended Preparation Instructions:
Soak overnight. Rinse and place in a large pot and cover with fresh water. Bring to a boil for 3 minutes, reduce heat and simmer, covered, for 45 minutes until tender.
One cup dry yields 3 cups cooked.
Product Description
Cranberry Beans are related to the Kidney Bean. Cranberries are like the Pinto Bean but reversed in color with pink skin and maroon mottling. They are somewhat plumper than the Pinto. Also referred to as a borlotto, crab eye, roman, romano, rosecoco or saluggia bean. They may be interchanged in recipes wherever Borlotti or Saluggia Beans are required. Like their Mexican and Italian cousins (Pinto and Kidney), they will turn pink when cooked. They're delicious in recipes with sweet or savory spices.
Physical
Color: Pink skin and maroon mottling.
Flavor: Typical of beans, sweet.
Size: Approximately ½ inch in length.
Chemical
Moisture: N/A
Sulfites: N/A
Heat Level: N/A
Ingredient Statement:
Cranberry (Borlotti) Beans.
Allergen Statement
None.
Packaging & Storage
Shelf Life: Min 12 months (under optimum storage conditions).
Packaging: Poly bag in box.
Storage Conditions: Store in a dry, cool place.
About Nutritional Information
Chieftain Wild Rice Company gathers nutritional information from highly regarded sources. Nutritional analysis can vary due to growing conditions, frequency of testing, and other factors.
Nutrition Facts

Serving Size 100g (uncooked)

Amount Per Serving

Calories 335

Calories from Fat 9

 

% Daily Value *

Total Fat 1g

2%

Saturated Fat 0g

0%

Trans Fat 0g

 
Cholesterol 0g

0%

Sodium 6 mg

0%

Total Carbohydrate 60g

20%

Dietary Fiber 25g

100%

Sugars 9g

 
Protein 23g
 

Vitamin A

0%

Vitamin C

0%

Calcium

13%

Iron

28%

* The Percent Daily Values are based on a 2,000 calorie diet.