FRENCH RED (CAMARGUE) RICE - Kosher/Gluten Free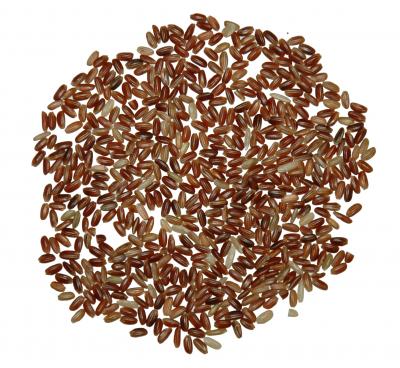 ---
FRENCH RED (CAMARGUE) RICE - Kosher/Gluten Free
FRENRED-10
Description:

French Red Rice is from Camargue, a southeastern region in France. Camargue Rice has been granted a Protected Geographic Indication by the European Community, recognizing its uniqueness and its connection to the region. This insures that this region will continue to produce high quality food ingredients. The natural salt content in the region's soil makes growing most crops a challenge but because rice can handle higher levels of salinity it proves to be well suited to the area. "Le Riz Rouge" as the rice is called, is similar to brown rice with its longish grain and nutty flavor but its texture is firmer and less sticky. French Red Rice has a beautiful color reminiscent of the area it is grown in.
Ingredient Statement:
Brown Rice.
Camargue Rice with the addition of braised leeks, toasted almonds, sweet red peppers, and fresh herbs compliments a vast array of wild game. It works great as an accompaniment to poultry and meats or served cold in colorful and tasty rice salads. Use anywhere an earthy, nutty flavor is desired. Excellent in pilafs. Cook Camargue Rice in your favorite stock and stir in almonds, chopped apricots and cherries and serve with fish or white meat. Stir pesto into freshly cooked Camargue Red Rice and serve as a side dish to any meat or vegetables. Try Camargue Rice as a dessert in coconut milk, with brown sugar and cinnamon and serve with baked fruits.
Recommended Preparation Instructions:
Place 1 cup of rice and 1½ cups of water in sauce pan, cover with tight fitting lid. Bring to boil, then lower and simmer for 30-40 minutes until grains are tender. Let stand 5 minutes.
One cup dry yields 3 cups cooked.
Product Description
French red rice is from southeastern France. Camargue to be more specific. This region has been designated as a, Protected Geographic Appellation, by the French government. This insures that this region will continue to produce high quality food ingredients. This rice is also known as, Riz Rouge. The rice has a beautiful color and excellent flavor. This is the premier red rice from Europe.
Physical
Color: Reddish brown with some off-white kernels.
Flavor: Typical of brown rice.
Size: Approximately ¼ inch long, fairly thick.
Chemical
Moisture: N/A
Sulfites: N/A
Heat Level: N/A
Ingredient Statement:
Brown Rice.
Allergen Statement
None.
Packaging & Storage
Shelf Life: Min. 12 months (under optimum storage conditions).
Packaging: Poly bag in box.
Storage Conditions: Store in a dry, cool place.
About Nutritional Information
Chieftain Wild Rice Company gathers nutritional information from highly regarded sources. Nutritional analysis can vary due to growing conditions, frequency of testing, and other factors.
Nutrition Facts

Serving Size 100g (uncooked)

Amount Per Serving

Calories 362

Calories from Fat 27

 

% Daily Value *

Total Fat 3g

5%

Saturated Fat 1g

5%

Trans Fat 0g

 

Cholesterol 0g

0%

Sodium 4mg

0%

Total Carbohydrate 76g

25%

Dietary Fiber 3g

12%

Sugars 0g

 

Protein 8g
 

Vitamin A

0%

Vitamin C

0%

Calcium

3%

Iron

11%

* The Percent Daily Values are based on a 2,000 calorie diet.