WALNUTS, ENGLISH - Kosher/Gluten Free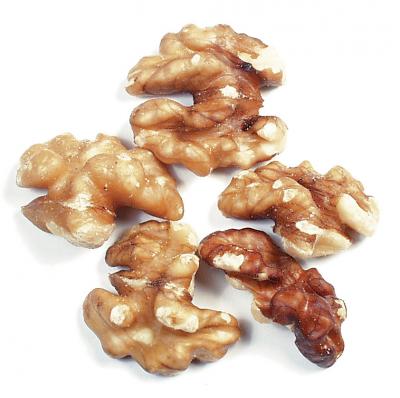 ---
WALNUTS, ENGLISH - Kosher/Gluten Free
ENWAL-5
Description:

English Walnuts are one of the mostly widely used nuts in cooking. The English Walnut is the fruit of the Walnut Tree. This tree grows in temperate zones and produces a wrinkled two-lobed seed with a hard but relatively thin shell. English Walnuts are plump, meaty and crisp with a reputation for being a great source of nutrition as well as great tasting. Walnuts are delicious in a variety of sweet and savory dishes and baked goods.
Ingredient Statement:
Walnuts. (Contains Tree Nuts)
English Walnut cake, English Walnut dressing, English Walnut chicken salad and English Walnut liqueur are just a few of the unique recipes including this rich and meaty nut!
Recommended Preparation Instructions:
For baking, toast in an oven at 325 degrees for about 10 minutes to enhance the flavor.
Product Description
English walnuts are a great source of nutrition as well as great tasting. Several studies have shown that blood cholesterol levels can be lowered when nuts are incorporated into the diet.
Physical
Color: Light to dark brown.
Flavor: Typical of walnuts.
Size: Approximately ¼ to 1¼ inches in length.
Chemical
Moisture: N/A
Sulfites: Negative
Heat Level: N/A
Ingredient Statement:
Walnuts.
Allergen Statement
Contains Tree Nuts.
Packaging & Storage
Shelf Life: Min 12 months (under optimum storage conditions).
Packaging: Poly bag in box.
Storage Conditions: Store in a dry, cool place.
About Nutritional Information
Chieftain Wild Rice Company gathers nutritional information from highly regarded sources. Nutritional analysis can vary due to growing conditions, frequency of testing, and other factors.
Nutrition Facts

Serving Size 110g (uncooked)

Amount Per Serving

Calories 654

Calories from Fat 585

 

% Daily Value *

Total Fat 65g

100%

Saturated Fat 6g

30%

Trans Fat 0g

 

Cholesterol 0g

0%

Sodium 2mg

0%

Total Carbohydrate 14g

5%

Dietary Fiber 7g

28%

Sugars 3g

 

Protein 15g
 

Vitamin A

0%

Vitamin C

2%

Calcium

10%

Iron

17%

* The Percent Daily Values are based on a 2,000 calorie diet.