ANCHO CHILE POWDER - Kosher/Gluten Free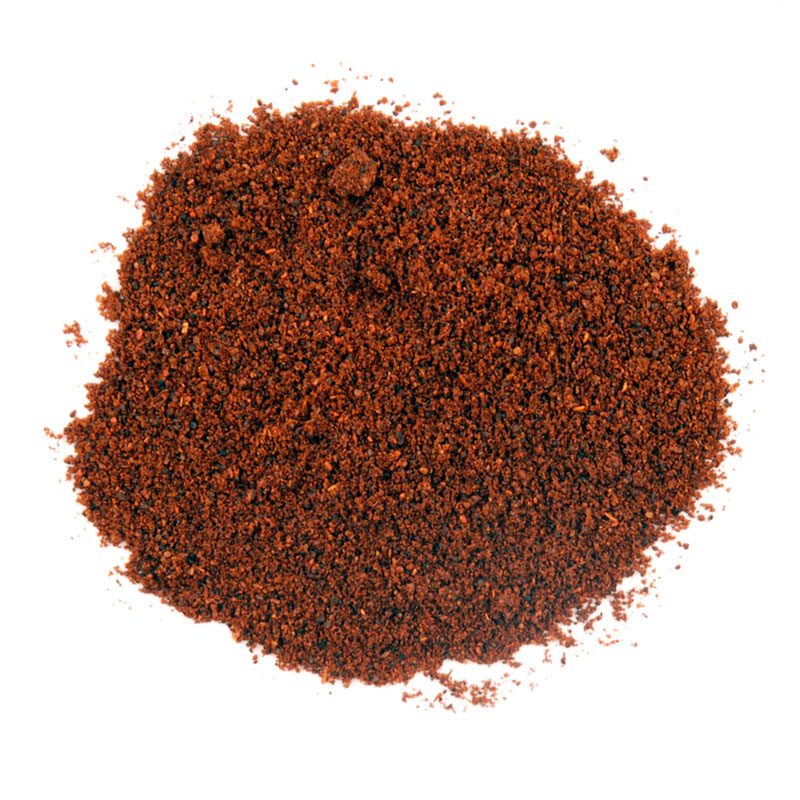 ---
ANCHO CHILE POWDER - Kosher/Gluten Free
ANCHOPOW-20
Description:

The Ancho (Ahn-Cho) Chile is the most commonly used chile in Mexico. Ancho Powder is made from grinding whole Anchos, seeds, and pod both. Ancho powder (35 mesh) is 100% pure. Grown in Mexico, Ancho Chiles are common to Mexican and Southwestern cooking, they are actually a dried Poblano pepper and are often mislabeled as a "Pasilla" or "Mulato" pepper. Dried Ancho Chiles are brick red to reddish black or mahogany color and range in size up to 4 inches in length. The Ancho Chile along with the Pasilla and Guajillo chiles form the "Holy Trinity" of chiles used to prepare traditional mole sauces. Ancho Chiles are often the ingredient in chili, soups, sauces, and salsas. Approx. Scoville units are 4,000 to 9,000.
Ingredient Statement:
Dried Ancho Chiles.
For warm, savory soups, add Ancho Powder directly to the cooking liquid with other spices. Sprinkle over poultry or fish before grilling, add to sauces, salsa and chili. Sprinkle in your favorite vinaigrette to create a vibrant salad or pasta salad. Sprinkle on popcorn with garlic powder for a spicy snack.
Recommended Preparation Instructions:
Chile Powders require no preparation. Add directly to recipes when a boost of flavor and heat are desired. Substitute 1 tbs. of Ancho Powder when a recipe calls for 1 whole Ancho chile.
Product Description
Ancho Chile Powder is made from grinding whole Anchos, seeds, and pod both. Ancho powder is 100 pure to provide an authentic flavor. Ancho is the most commonly used dried chile in Mexico. An Ancho is a dried Poblano Pepper and often is mislabeled as a Pasilla or Mulato pepper. Anchos can be used as a substitute for Guajillo or Pasilla Negro and vice versa.
Physical
Color: Deep reddish-brown.
Flavor: Mild, sweet, fruity flavor.
Size: Min 80% through a U.S. #40 mesh screen.
Chemical
Moisture: 12%
Sulfites: N/A
Ingredient Statement:
Dried Ancho Chiles.
Allergen Statement
Contains no allergens.
Packaging & Storage
Shelf Life: Min 12 months (under optimum storage conditions).
Packaging: Plastic jar.
Storage Conditions: Store in a dry, cool place.
About Nutritional Information
Chieftain Wild Rice Company gathers nutritional information from highly regarded sources. Nutritional analysis can vary due to growing conditions, frequency of testing, and other factors.
Nutrition Facts
Serving Size 1/4 teaspoon (.5g)
Amount Per Serving
Calories 0
Calories from Fat 0
 
% Daily Value *
Total Fat 0g
0%
Saturated Fat 0g
0%
Trans Fat 0g
 
Cholesterol 0mg
0%
Sodium 0mg
0%
Total Carbohydrate 0g
0%
Dietary Fiber 0g
0%
Sugars 0g
 
Protein 0g
 
Vitamin A
2%
Vitamin C
0%
Calcium
0%
Iron
0%
* The Percent Daily Values are based on a 2,000 calorie diet.