BERRY BLEND - Kosher/Gluten Free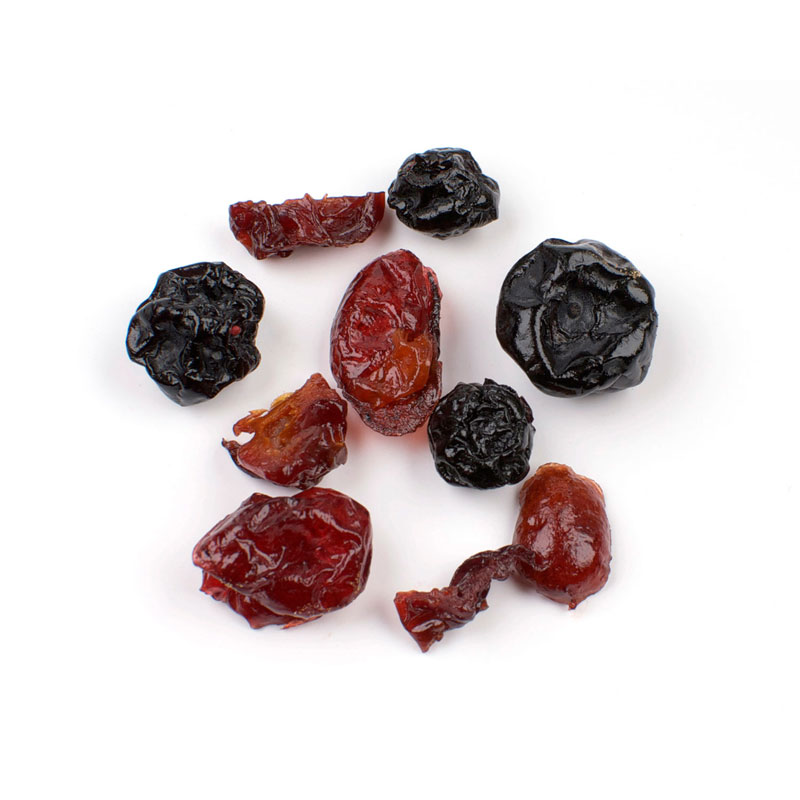 ---
BERRY BLEND - Kosher/Gluten Free
BERRY-5
Description:

Berry Blend is a flavorful combination of dried blueberries, cranberries and tart cherries. A perfect mix of tart and sweet flavors this blend can be used as a time saver for busy chefs. Add this tasty blend to baked goods, desserts, wild rice  or wild rice blends, chutneys, compotes, stuffing, salads and more! 
Chieftain's Berry Blend is easy to use and simply delicious! Use this versatile blend in...
use in batters for baking mixes, cookies and cakes
add this blend during the last five minutes of cooking time when preparing a wild rice pilaf
combine with nuts and other ingredients for trail mixes and snacks
can be added to tempered chocolate for use in confections
substitute for raisins in recipes
add to rice or bread pudding
toss with nuts, rice and your choice of greens for a tasty salad
add to your favorite ice cream recipe
Recommended Preparation Instructions:
Berry Blend is ready to eat and recipe ready. 
BERRY BLEND
Product Description
Berry Blend is a mix of dried blueberries, tart cherries and tender cranberries. This blend is a flavorful burst of sweet and tart flavors.
Physical
Color: Deep blue and red colors.
Flavor: Balanced sweet, tart berry flavors.
Size: Powder.
Chemical
Moisture: N/A            Sulfites: N/A               Heat Level: N/A
Ingredient Statement: 
Dried Blueberries (blueberries, sugar, natural flavor, citric acid, and sunflower oil), dried Cranberries (cranberries, sugar, sunflower oil), and dried Tart Cherries (cherries, sugar, sunflower oil).
Allergen Statement:  Contains no allergens.
Packaging & Storage:
Shelf Life: Min 12 months (under optimum storage conditions).
Packaging: Poly bag in box.
Storage Conditions: Storage environment should be cool and dry (less than 70% RH) and free from undesirable odors.
Recommended Preparation Instructions:
Berry Blend is recipe ready and can be eaten straight out of the bag.
Nutrition Facts
Serving Size 1/4 cup raw (40g)
Number of Servings
Amount Per Serving
Calories 130
Calories from Fat 0
 
% Daily Value *
Total Fat  0 g
0%
Saturated Fat 0g
0%
Monounsaturated Fat 0g
 
Polyunsaturated Fat 0g
 
Trans Fat 0g
 
Cholesterol 0g
0%
Sodium 0mg
0%
Potassium 0mg
0%
Total Carbohydrate 33g
12%
Dietary Fiber 2g
7%
Sugars 29g
 
Protein 0g
0%
Vitamin A
2%
Vitamin C
6%
Calcium
2%
Iron
0%
* The Percent Daily Values are based on a 2,000 calorie diet.