CORN POLENTA, MEDITERRANEAN KALE - Kosher/Gluten Free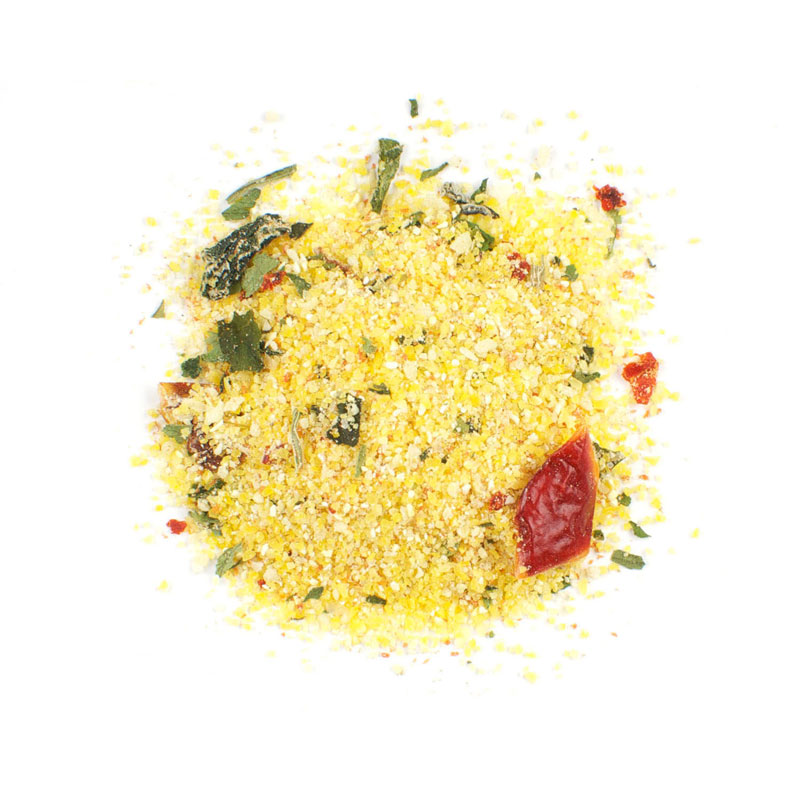 ---
CORN POLENTA, MEDITERRANEAN KALE - Kosher/Gluten Free
MEDKALEPOL-10
Description:

Mediterranean Kale Polenta combines polenta with the earthy-sweet flavor of kale along with Calabrian chiles, red bell pepper, and roasted garlic. Chefs will love the easy-to-make format of this blend.
Ingredient Statement:
Cornmeal, Parmesan cheese buds (Maltodextrin, whey solids, natural parmesan cheese flavor, salt), Salt, Tomato, Kale, Red bell pepper, Contains 2% or less of Garlic, Spices, Leek, Natural Flavor. Contains Milk
Use as a side for herb-roasted chicken

Top with sautéed vegetables for a hearty side or entrée
Use as part of a Mediterranean-inspired meal
Recommended Preparation Instructions:
Bring 4 cups of water or stock to boil. Very slowly whisk in 1 cup polenta. Whisk while simmering for 3 minutes, until very thick. To make polenta cakes, pour in a greased loaf pan, and chill 2 hours. Slice and prepare as desired.
Nutrition Facts
Serving Size 1/4 cup  -  (30g)
Number of Servings
Amount Per Serving
Calories 110
Calories from Fat  0 
 
% Daily Value *
Total Fat  .5 g
1%
Saturated Fat  0 g
0%
Monounsaturated Fat  0 g
 
Polyunsaturated Fat  0 g
 
Trans Fat  0 g
 
Cholesterol 0 g
0%
Sodium 510 mg
21%
Potassium 0 mg
0%
Total Carbohydrate 22 g
7%
Dietary Fiber  2 g
7%
Sugars  2 g
 
Protein 2 g
 
Vitamin A
15%
Vitamin C
25%
Calcium
2%
Iron
4%
* The Percent Daily Values are based on a 2,000 calorie diet.