VEGETABLE BLEND, DRIED - Kosher/Gluten Free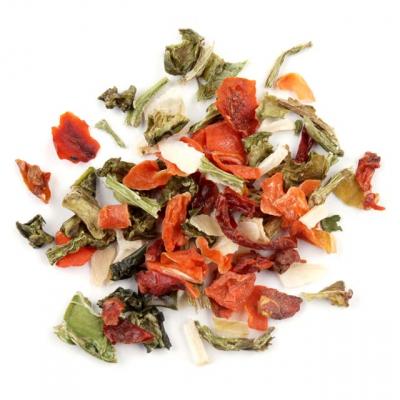 ---
VEGETABLE BLEND, DRIED - Kosher/Gluten Free
VEGBLEND-6
Description:

Temporarily Unavailable...  Dried Vegetable Blend is a time saver for use when fresh vegetables are not available. This Vegetable Blend is a savory combination of Onions, Celery, Carrots and Bell Pepper. Tasty in soups, stews and sauces. Dried Vegetable Blend will store for months if kept in a cool, dry place. Try it in your favorite meat loaf or baked dip.
Ingredient Statement:
Red & Green Bell Peppers, Carrots, Onion, Celery.
Dried Vegetable Blend may be re-hydrated and added to any dish requiring a variety of vegetables.  
Recommended Preparation Instructions:
No preparation needed. Just add to recipe as called for.
Product Description
This Dried Vegetable Blend is the perfect combination of onion, celery, carrot and bell pepper. It is a great step saver for soups, stews and sauces. Re-hydrate it and use it in stuffing, or meat loaf. Our Dried Vegetable Blend will keep for months in your pantry, ready to use whenever fresh vegetables are not at your fingertips.
Physical
Color: Deep orange and red pieces, various shades of green and cream present.
Flavor: Typical of dried vegetables.
Size: Varies, dice sizes are approximately ¼ - ¾ inch in length.
Chemical
Moisture: Maximum 10%
Sulfites: N/A
Heat Level: N/A
Ingredient Statement:
Red & Green Bell Peppers, Carrots, Onion, Celery.
Allergen Statement
Contains no allergens.
Packaging & Storage
Shelf Life: Min 12 months (under optimum storage conditions).
Packaging: Plastic jar.
Storage Conditions: Store in a dry, cool place.
About Nutritional Information
Chieftain Wild Rice Company gathers nutritional information from highly regarded sources. Nutritional analysis can vary due to growing conditions, frequency of testing, and other factors.
Nutrition Facts

Serving Size about 1/4 cup (15g)

Amount Per Serving

Calories 50

Calories from Fat 0

 

% Daily Value *

Total Fat 0g

0%

Saturated Fat 0g

0%

Trans Fat 0g

 

Cholesterol 0g

0%

Sodium 50mg

2%

Total Carbohydrate 11g

4%

Dietary Fiber 3g

12%

Sugars 5g

 

Protein 2g
 

Vitamin A

80%

Vitamin C

120%

Calcium

4%

Iron

4%

* The Percent Daily Values are based on a 2,000 calorie diet.