MIX, FIVE GRAIN - Kosher/Gluten Free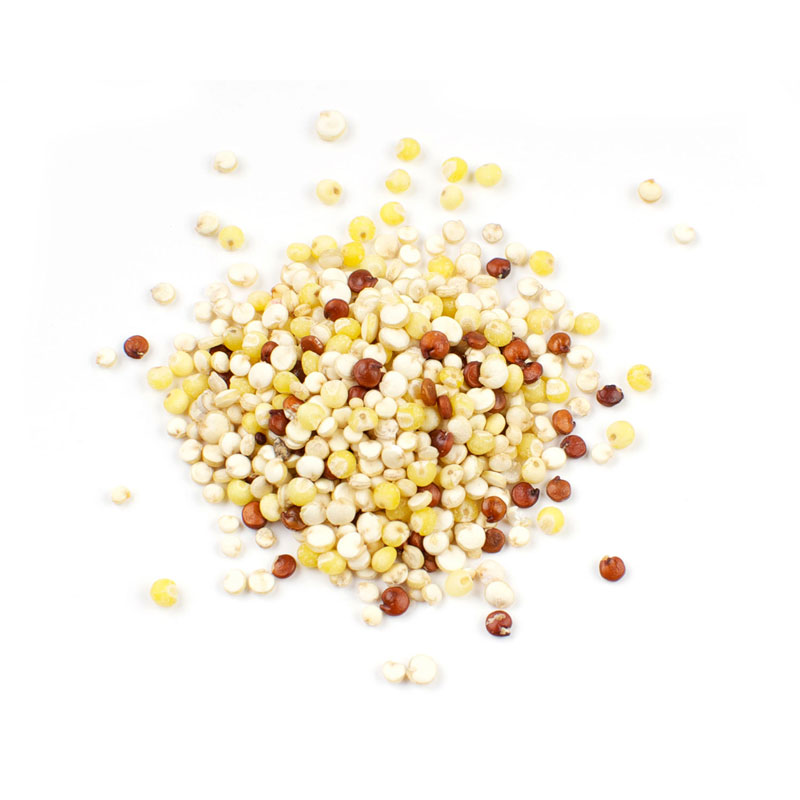 ---
MIX, FIVE GRAIN - Kosher/Gluten Free
FIVE-10
Description:

Chieftain's Five Grain Mix helps chefs implement whole grains into their menus. Nutritious whole grains are becoming extremely important in American diets as they lower the risk of many chronic diseases including heart disease.
Five Grain Mix is a healthy combination of high protein grains that are packed with complex carbohydrates and fiber. With a rich, nutty flavor this blend offers the convenience of combined grains that cook consistently every time. Delicious as a cereal or for use in vegetarian dishes.
Ingredient Statement:
Quinoa, Millet, Kaniwa, Amaranth, Teff.
Product Description
Whole grains are becoming very popular as Americans realize the importance of whole foods in their diets. The government's Food Pyramid recommends increasing servings of whole grains to replace meats and fats. The Five-grain mix is packed with nutrients, complex carbohydrates, and fiber, exactly what the health-conscious consumer is looking for.
Physical
Color: Typical of a mix of grains.
Flavor: Typical of grains.
Size: Typical of grains.
Chemical
Moisture: N/A
Sulfites: N/A
Heat Level: N/A
Ingredient Statement:
Quinoa, Millet, Kaniwa, Amaranth, Teff.
Allergen Statement
Contains no allergens.
Packaging & Storage
Shelf Life: Min. 12 months (under optimum storage conditions).
Packaging: Polybag in box.
Storage Conditions: The storage environment should be cool and dry (less than 70% RH) and free from undesirable odors.
About Nutritional Information
Chieftain Wild Rice Company gathers nutritional information from highly regarded sources. Nutritional analysis can vary due to growing conditions, frequency of testing, and other factors.
Nutrition Facts
Serving Size about 1/4 cup (45g)
Amount Per Serving
Calorie170
Calories from Fat 25
 
% Daily Value *
Total Fat 2.5g
4%
Saturated Fat 0g
0%
Trans Fat 0g
 
Cholesterol 0g
0%
Sodium 0mg
0%
Total Carbohydrate 30g
10%
Dietary Fiber 3g
12%
Sugars 0g
 
Protein 6g
 
Vitamin A
0%
Vitamin C
0%
Calcium
2%
Iron
10%
* The Percent Daily Values are based on a 2,000 calorie diet.
Recommended Preparation Instructions:
Bring 2½ cups of water or stock to a boil. Add 1 cup five-grain mix. Return to a boil, reduce heat and simmer 15 - 20 minutes until tender. Let stand 5 and fluff with a fork minutes before serving. One cup dry equals 2 1/4 to 2 1/2 cups cooked.