GOCHUJANG POWDER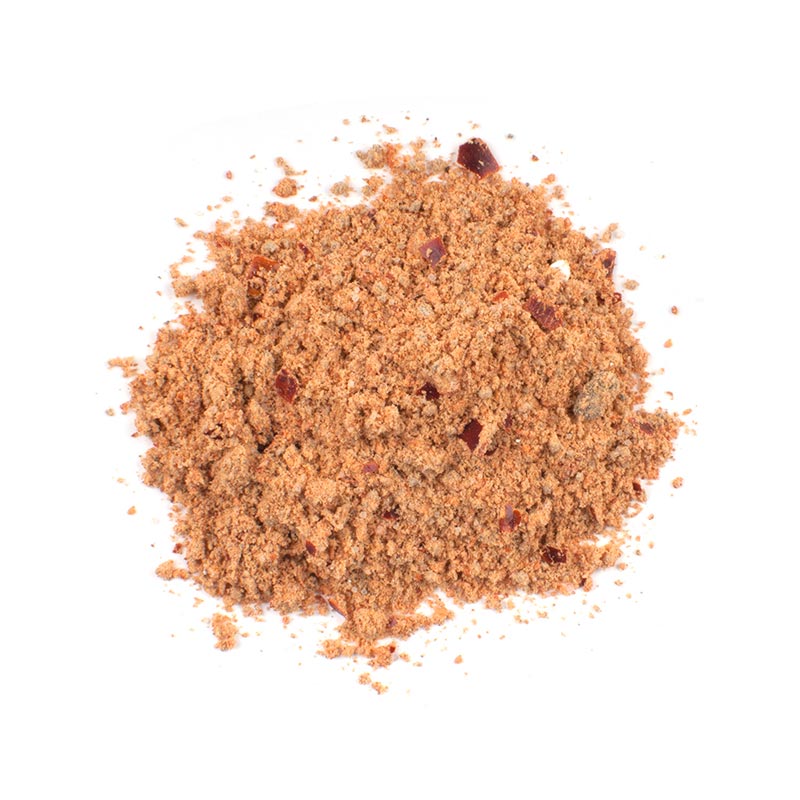 ---
GOCHUJANG POWDER
GOCHPOW-17
Description:

Chefs looking for the taste, flavor, and warmth of traditional Korean Gochujang will enjoy this convenient, shelf-stable spice. Chieftain's Gochujang Powder captures the heat and spice and is perfect for use in dips, breadings, as a dry rub, and in marinades. This combination of spices balances the heat of gochugaru chile flakes with the savory notes of miso powder and soy sauce. 
Ingredient Statement: Dried chiles, dried cane syrup, red miso powder (soybeans, rice, salt, aspergillus oryzae), salt, roasted cabbage extract
powder (maltodextrin, sugar, cabbage extract, corn oil), garlic, onion, rice concentrate, dry red pepper flavoring (red pepper, distilled vinegar, salt), black garlic powder, dehydrated soy sauce (soy sauce (wheat, soybeans, salt) maltodextrin, salt), natural flavor, dried ginger, citric acid. (Contains soy, wheat)
• Riff on traditional Korean preparations like galbi or bulgogi
• Season hummus, baked spinach-artichoke, and other dips
• Spice up your usual vinaigrette and other salad dressings
• Add to breading or batters for sweet and spicy chicken strips, fried oysters or wings
• Mix with salt and other spices to bring new dimensions to rub for grilled and roasted foods
Recommended Preparation Instructions:
Ready to use. Add to taste.
Nutrition Facts
Serving Size 1/4 tsp. -  (1g)
Number of Servings
Amount Per Serving
Calories 0
Calories from Fat  0
 
% Daily Value *
Total Fat 0 g
0%
Saturated Fat  0 g
0%
Monounsaturated Fat  0 g
 
Polyunsaturated Fat  0 g
 
Trans Fat  0 g
 
Cholesterol  0 g
0%
Sodium 360 mg
15%
Potassium 0 mg
0%
Total Carbohydrate 0 g
0%
Dietary Fiber 0 g
0%
Sugars 0  g
 
Protein  0 g
0%
Vitamin A
0%
Vitamin C
0%
Calcium
0%
Iron
0%
* The Percent Daily Values are based on a 2,000 calorie diet.