KASHA - Gluten Free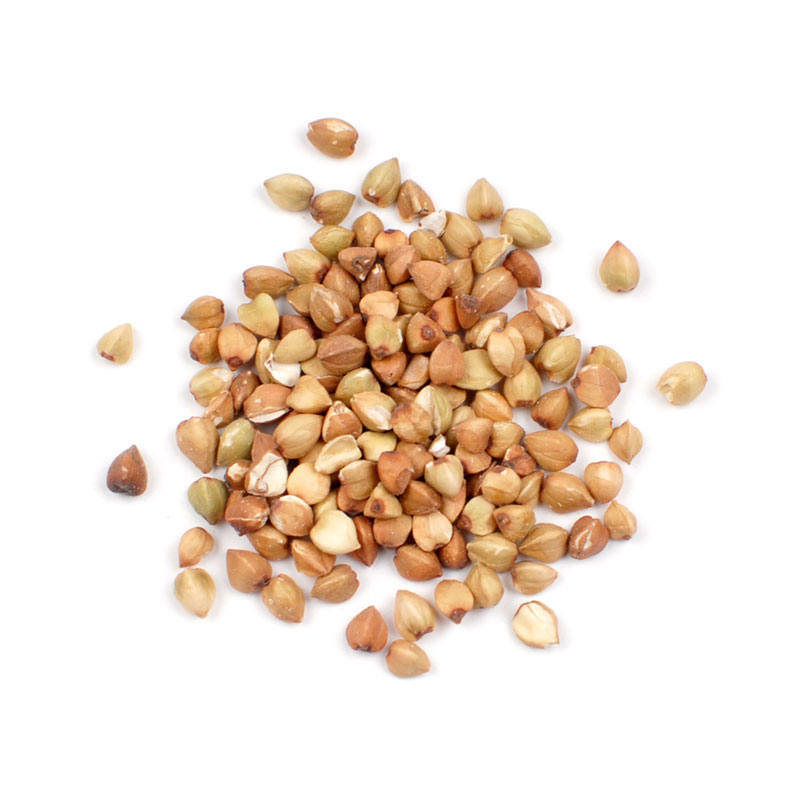 ---
KASHA - Gluten Free
KAS-10
Description:

Sorrel. Native to Central Asia, Buckwheat was introduced to Europe at the end of the middle ages. The word Buckwheat is said to come from the Anglo-Saxon words boc (beech) and whoet (wheat) because the seed resembled a small beechnut and yet was similar in size to a wheat kernel. When unprocessed, the Buckwheat seed is three-sided and has a thick, hard outer shell that must be removed before eating. This is usually done mechanically and the remaining inner seed is called a Groat. Hulled Buckwheat is cream colored and the Groats are small and angular shaped. When roasted, this grain is called Kasha and can be used in breakfast cereals, bread, soups, and stuffing. Buckwheat Groats carry a hearty, earthy malted tone, which enhances the flavor of your dish. Buckwheat Groats are an excellent source of easily digestive protein, containing all eight essential amino acids; they are a good source of fiber.
Ingredient Statement:
Roasted Buckwheat Groats.
The nutty, earthy flavor of groats is found in knishes, soba noodles, piroshki, pilafs, cold salads, and as a breakfast food. Buckwheat Groats can be dry-roasted, sauteed, baked, braised, or marinated.
Recommended Preparation Instructions:
Ready to use. Soak in water to soften.
Product Description
Kasha is hulled and roasted Buckwheat Groats. It can be eaten right out of the bag and is commonly used as a topping for frozen yogurt. Buckwheat is not technically a grain but an annual related to Rhubarb. Buckwheat is rich in amino acids and considered the heartiest grain, although it is not as easy to digest as other grains.
Physical
Color: Light tan to brown.
Flavor: Nutty, roasted flavor.
Size: Approximately 1/8 to 3/16 inch in length, angular shaped.
Chemical
Moisture: 8%
Sulfites: N/A
Heat Level: N/A
Ingredient Statement:
Roasted Buckwheat Groats.
Allergen Statement
Contains no allergens.
Packaging & Storage
Shelf Life: Min 12 months (under optimum storage conditions).
Packaging: Polybag in box.
Storage Conditions: Store in a dry, cool place.
About Nutritional Information
Chieftain Wild Rice Company gathers nutritional information from highly regarded sources. Nutritional analysis can vary due to growing conditions, frequency of testing, and other factors.
Nutrition Facts

Serving Size 1/4 cup (45g)

Amount Per Serving

Calories 160

Calories from Fat 10

 

% Daily Value *

Total Fat 1g

2%

Saturated Fat 0g

0%

Trans Fat  0g

 

Cholesterol 0g

0%

Sodium 0mg

0%

Total Carbohydrate 34g

11%

Dietary Fiber 5g

20%

Sugars 0g

 

Protein 5g
 

Vitamin A

0%

Vitamin C

0%

Calcium

0%

Iron

6%

* The Percent Daily Values are based on a 2,000 calorie diet.