MACADAMIA NUTS - Gluten Free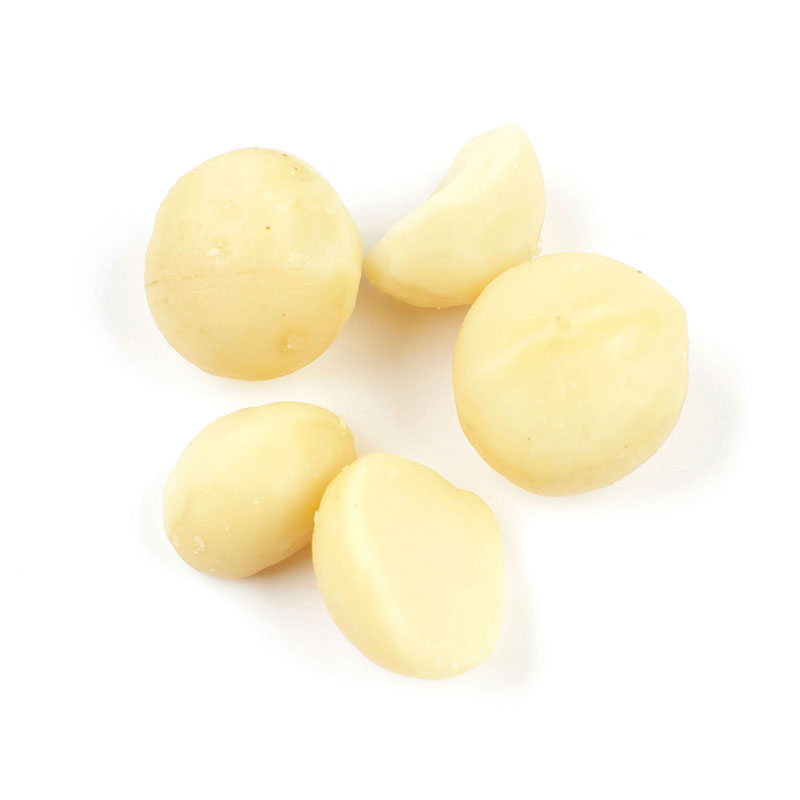 ---
MACADAMIA NUTS - Gluten Free
MACA-5
Description:

Temporarily Unavailable... These cream-colored, buttery flavored Macadamia Nuts are the perfect addition to any chef's recipe. Macadamia trees were first cultivated in Australia in the 19th century by a chemist after whom the tree was eventually named. Prized for the tree's visual appeal, the nuts were originally ignored due to the difficulty in cracking the extremely hard nutshell. Macadamia Trees were first brought to Hawaii in 1881-82 and with the island's perfect growing conditions and volcanic soil, the trees thrived. They are now grown as a cash crop in Hawaii. These trees live for a very long time; some trees in Queen's land are 150 years old. During the summer, each spray of 40 to 50 flowers on the Macadamia Tree product 4 to 15 'nutlets' that will ripen into large clusters of nut flowers. In six months of development on the tree, the nuts fall to the ground. During processing, the soft husk is stripped from the hard shell surrounding the Macadamia kernel. Macadamia Nuts are high in monounsaturated fats and have been shown to lower the risk of heart disease and high blood pressure by reducing harmful cholesterol levels. The flavor profile of a Macadamia Nut is sweet and buttery. Our Macadamia Nuts come raw which allows for greater versatility. Macadamia Nuts can also come from Australia, South Africa, Brazil, and Costa Rica.
Ingredient Statement:
Macadamia Nuts. (Contains Tree Nuts)
Temporarily Unavailable... 
This delicious nut is so versatile it may be used in everything from confections, cookies, bread main entrees, and side dishes. Banana Macadamia nut bread, chocolate graham toffee bark, cream cheese and Macadamia nut cookies, Macadamia and ginger stuffing, Macadamia parmesan sole, and nut crusted pork tenderloin are just a few recipes that you can experiment with using this versatile nut.
Macadamia Nuts have been used as a snack food for the Paleo and Keto Diet plans. 
Recommended Preparation Instructions:
Macadamia nuts can be toasted or used raw when cooking.  To toast, arrange the nuts in a single layer, on a large, flat pan.  Sauté over low heat 12 minutes.  Keep the nuts moving so as not to burn.
Product Description
Macadamia Nuts are native to Australia. They were brought to Hawaii in 1882 where the trees thrived in the volcanic soil; they are now grown as a cash crop. Macadamias have a very high oil content and most nuts are sold pre-roasted. They have a sweet and buttery flavor and come raw which allows for greater versatility.
Physical
Color: Beige to light yellow.
Flavor: Sweet, buttery flavor.
Size: Whole kernels approximately ¾ inch in diameter.
Chemical
Moisture: 12%
Sulfites: N/A
Heat Level: N/A
Ingredient Statement:
Macadamia Nuts.
Allergen Statement
Contains Tree Nuts.
Packaging & Storage
Shelf Life: 12 months (under optimum storage conditions).
Packaging: Polybag in box.
Storage Conditions: Store in a dry, cool place.
About Nutritional Information
Chieftain Wild Rice Company gathers nutritional information from highly regarded sources. Nutritional analysis can vary due to growing conditions, frequency of testing, and other factors.
Nutrition Facts

Serving Size about 15 pcs. (30g)

Amount Per Serving

Calories 220

Calories from Fat 210

 

% Daily Value *

Total Fat 23g

35%

Saturated Fat 3.5g

18%

Trans Fat 0g

 

Cholesterol 0g

0%

Sodium0mg

0%

Total Carbohydrate 4g

1%

Dietary Fiber 3g

12%

Sugars 1g

 

Protein 2g
 

Vitamin A

0%

Vitamin C

0%

Calcium

2%

Iron

6%

* The Percent Daily Values are based on a 2,000 calorie diet.