MAJESTIC BLEND - Naturally Gluten Free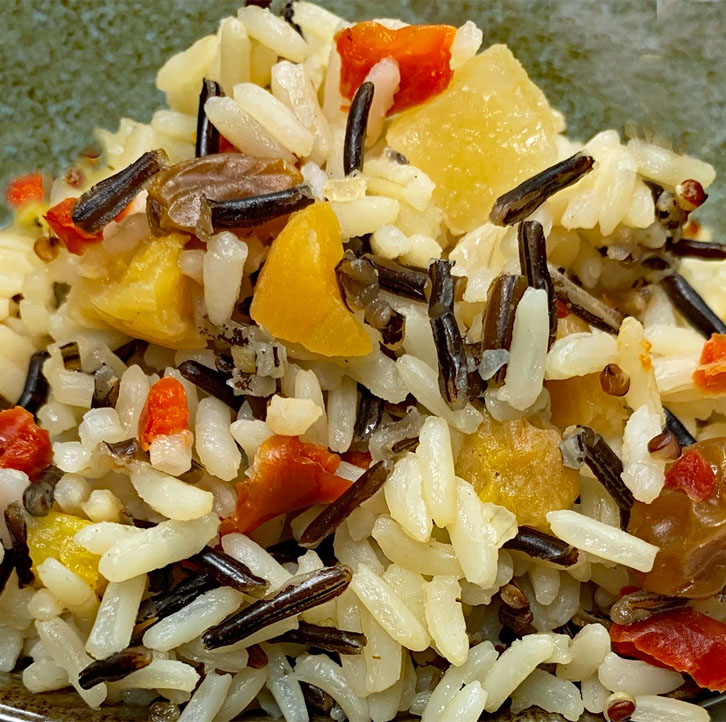 | | | |
| --- | --- | --- |
| 2# Bag | $9.70 | |
| 5# Bag | $24.25 | |
---
MAJESTIC BLEND - Naturally Gluten Free
MB-2, MB-5
Description:

Par-boiled White Rice, Wild Rice, Diced Apricots (Apricots, Rice Flour, Sulfur Dioxide),  Golden Raisins Raisins(Vegetable and /or Sunflower Oil, Sulfur Dioxide), Diced Pineapple (Pineapple, Sugar, Citric Acid, Sulfur Dioxide), Onions,  Red Bell Peppers, Red Quinoa. 
Contains Sulfites
Click here to purchase Seasonings sold separately.
Majestic Blend is a combination of sweet and savory rice, fruit, grains, and vegetables that can be used in many applications. This colorful blend will compliment your holiday buffets yet is perfect for everyday menus and specials! Easy prep makes it versatile; try in warm and cold salads, as bedding for fish, seafood, and wild game, or use as a stuffing for poultry. 
A very colorful blend that will enhance any plate presentation. Holds well on a steam table.
Pairs well with Chieftain's Garlic Peppercorn Seasoning.
Compliments chicken, pork, beef, lamb, wild game, ostrich, fish, or seafood.
Approximate cost per ½ cup serving: 32¢.
Approximate yield per cup:  3 - 3 1/4.
½ Cup Servings per: 1# = 15.