MEDITERRANEAN SPICE BLEND - Kosher/Gluten Free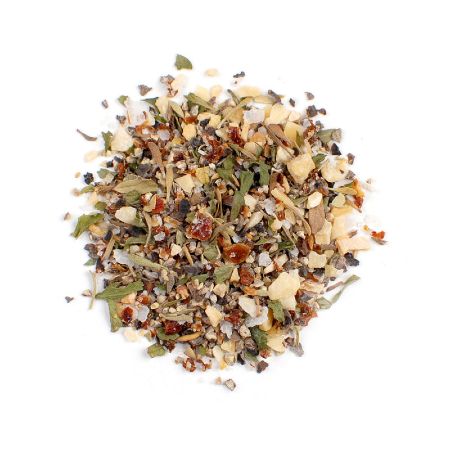 ---
MEDITERRANEAN SPICE BLEND - Kosher/Gluten Free
MEDSP-18
Description:

Chieftain's Mediterranean Spice Blend showcases the flavors of classic Mediterranean cuisine. This blend is a mix of coarse pungent spices such as butcher-cut black peppercorns, sea salt, garlic, crushed Aleppo chile, parsley, thyme, bell pepper, mustard, onion, and Mediterranean oregano. Use this fragrant blend in everything from salads to roast meats.  Coarsely ground and crushed multicolored spices contain mustard.
Ingredients:
Spices, garlic, onion, chile peppers, salt, lemon peel, bell peppers. Contains mustard.
Chieftain's Mediterranean Spice Blend is a natural seasoning that can be paired with olive oil and lemon juice for use as a marinade. Rub on lamb, chicken, or beef before grilling or roasting. Combine Mediterranean Spice blend with olive oil, red wine vinegar, and Dijon mustard for a delicious vinaigrette. This exotically unique spice is delicious in focaccia, stuffed peppers, potato dishes, and slow-braised dishes. 
Recommended Preparation Instructions:
Ready to use, add to taste.