MILLET SEED - Kosher/Gluten Free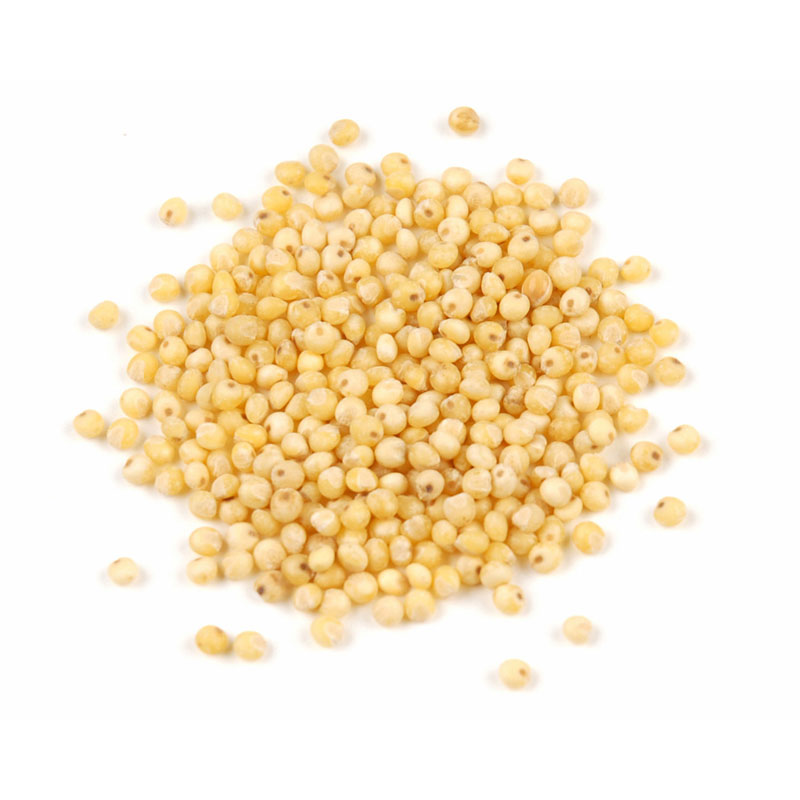 ---
MILLET SEED - Kosher/Gluten Free
MIL-10
Description:

Millet, the seed of an annual grass with an appearance that resembles maize, is one of the oldest foods known to humans. Native to Africa and Asia, Millet has been used as a staple food source for thousands of years. Depending on the variety, the plant can grow from one to fifteen feet tall. The seeds are enclosed in colored hulls and held above the plant on a spike-like panicle. Because the hull is hard and indigestible, this grain must be hulled before it can be used for human consumption. This process does not affect the nutrient value, as the germ stays intact. Once the hull has been removed the Millet grains are small, yellow, and sphere-like with a dot on one side where it was once attached to the stem.
Millet is tasty with a nutty, sweet corn-like flavor, and contains numerous nutrients; it is nearly 15% protein, contains high amounts of fiber and B vitamins including niacin, thiamin, and riboflavin. This grain is highly nutritious, non-glutinous, and is not an acid-forming food so it is easy to digest. It is considered to be one of the least allergenic grains available and is a tasty alternative to wheat products. Best if toasted before adding cooking liquid. You can vary the amount of water used for preparation depending on the texture you desire.
Ingredient Statement:
Millet Seeds.
For a unique treat, pop Millet like corn for use as a snack or breakfast cereal. Delicious as a cooked cereal or in casseroles, Millet can also be used in bread, soups, stew, soufflés, pilaf, and stuffing. Millet is delicious as a side dish or served with sautéed vegetables or with beans. Try Millet combined with any seasoning or herbs that are commonly used in rice dishes or combine with quinoa and brown or basmati rice. This grain absorbs flavors well in a dish and is a great companion for rice, corn, or oats.
Recommended Preparation Instructions:
For best results, toast grain prior to cooking.  Add 1 cup of millet to 3 cups of liquid and simmer for 30 minutes.
One cup dry yields 3 cups cooked.
Product Description
Millet is a small yellow grain with a mild, sweet corn-like flavor. Millet is native to Africa and Asia; there is evidence of cultivation since the 5th century BCE. Millet is a seed of annual grass. Millet is a common ingredient in birdseed. Unusual among grains that you can cook it with varying amounts of liquid, depending on the texture you desire. Millet is best if toasted before adding cooking liquid.
Physical
Color: Light to dark yellow.
Flavor: Typical of millet, mild, sweet, nutlike.
Size: Approximately 1/8 inch in diameter, small, round seeds.
Chemical
Moisture: 12%
Sulfites: N/A
Heat Level: N/A
Ingredient Statement:
Millet Seeds.
Allergen Statement
Contains no allergens.
Packaging & Storage
Shelf Life: Min. 12 months (under optimum storage conditions).
Packaging: Polybag in box.
Storage Conditions: Store in a dry, cool place.
About Nutritional Information
Chieftain Wild Rice Company gathers nutritional information from highly regarded sources. Nutritional analysis can vary due to growing conditions, frequency of testing, and other factors.
Nutrition Facts

Serving Size about 1/4 cup (45g)

Amount Per Serving

Calories 170

Calories from Fat 20

 

% Daily Value *

Total Fat 2g

3%

Saturated Fat 0g

0%

Trans Fat 0g

 

Cholesterol 0g

0%

Sodium 0mg

0%

Total Carbohydrate 33g

11%

Dietary Fiber 4g

16%

Sugars 0g

 

Protein 5g
 

Vitamin A

0%

Vitamin C

0%

Calcium

0%

Iron

8%

* The Percent Daily Values are based on a 2,000 calorie diet.