BARLEY, PEARLED - Kosher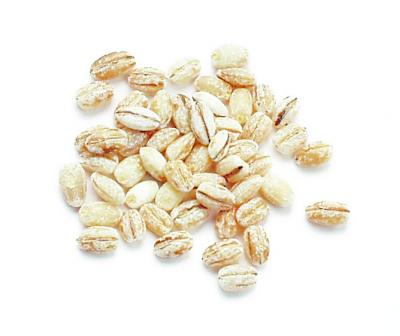 ---
BARLEY, PEARLED - Kosher
BAR-10
Description:

Barley is an ancient grain and was one of the first domesticated crops, going back to Biblical times. A staple grain in Egypt, barley was used to make beer and bread. Barley must have its fibrous outer hull removed before it can be eaten. A mechanical sanding process that is called "pearling" removes this hull. Pearled means lightly milled, or refined, which means the bran and hull have been removed retaining only a small white pearl of the endosperm, (a substance which inhibits cholesterol formation). This process diminishes its nutritional qualities by about 25-30% from what you would generally find in hulled barley. Pearled Barley has a sweet, mild, nutty flavor with a soft chewy texture. Barley is used as animal feed, an ingredient in brewing beer, and as a hearty food staple.
Ingredient Statement:
Barley. (Contains Gluten)
Once cooked, Pearled Barley can be used in salads, to thicken soups, broths or stews or for stuffing. Pearled Barley makes a hearty breakfast cereal, a hearty casserole, or a nutritious stir-fry. Make Barley and cranberry pork stew, a curried turkey and Barley casserole, a savory Barley stroganoff, or grilled chicken with Greek Barley salad. Does contain small amounts of gluten.
Recommended Preparation Instructions:
Rinse well, add 1 cup barley to 2½ cups of boiling water. Simmer covered 35-40 minutes until liquid is absorbed. For a fluffier grain, soak barley in water for 5 hours then simmer covered for 15 minutes.
One cup dry yields 3½ to 4 cups cooked.
Product Description
Barley is one of the oldest of the domesticated crops. Pearled means that the bran and hull have been removed, leaving only a small white pearl of endosperm. Pearled Barley has a sweet, nutty flavor and soft chewy texture. There is evidence of Barley going back to the Nile over 18,000 years ago. Barley was also an important grain to the Chinese where it was believed to increase male sexuality. In Rome, Barley was the special dish of the gladiators. Barley is an ingredient in brewing beer and was used as such when first planted in the US around 1600.
Physical
Color: Dark white to beige.
Flavor: Sweet, nutty.
Size: Approximately 1/8 inch long.
Chemical
Moisture: N/A
Sulfites: N/A
Heat Level: N/A
Ingredient Statement:
Barley.
Allergen Statement
Contains Gluten.
Packaging & Storage
Shelf Life: Min 12 months (under optimum storage conditions).
Packaging: Poly bag in box.
Storage Conditions: Store in a dry, cool place.
About Nutritional Information
Chieftain Wild Rice Company gathers nutritional information from highly regarded sources. Nutritional analysis can vary due to growing conditions, frequency of testing, and other factors.
Nutrition Facts
Serving Size 1/4 cup (45g)
Amount Per Serving
Calories 160
Calories from Fat 0
 
% Daily Value *
Total Fat .5g
1%
Saturated Fat 0g
0%
Trans Fat 0g
 
Cholesterol 0mg
0%
Sodium 0mg
0%
Total Carbohydrate 35g
12%
Dietary Fiber 7g
28%
Sugars 0g
 
Protein 4g
 
Vitamin A
0%
Vitamin C
0%
Calcium
0%
Iron
6%
* The Percent Daily Values are based on a 2,000 calorie diet.