HAZELNUTS, PEELED - Kosher/Gluten Free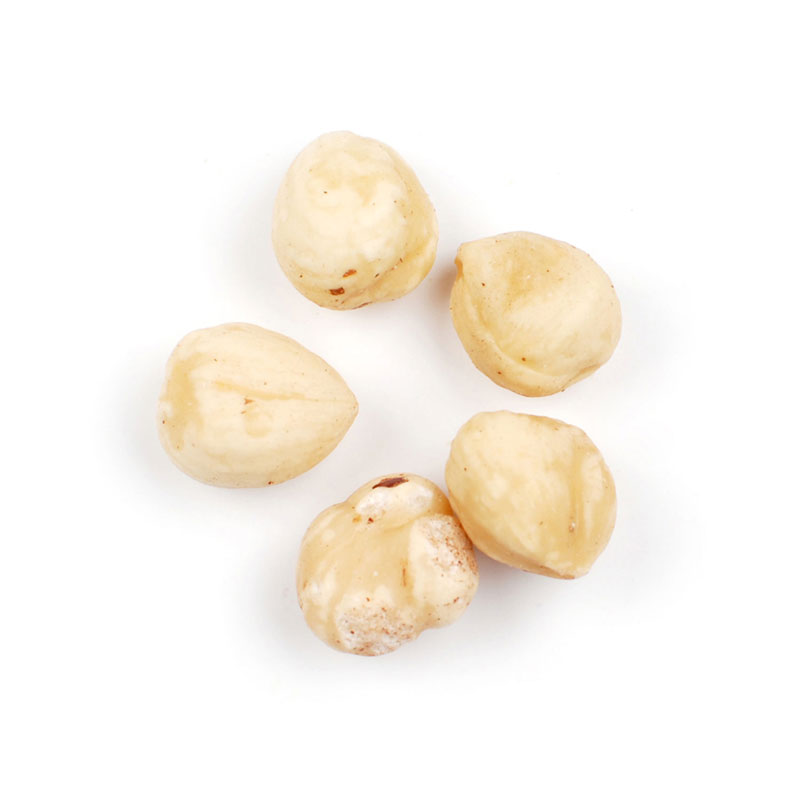 ---
HAZELNUTS, PEELED - Kosher/Gluten Free
HAZPEEL-5
Description:

Hazelnuts are also called Filberts and are grown in clusters on the Hazel Tree in temperate zones around the world. The Hazelnut has a fuzzy outer husk that opens when ripe exposing a smooth hard shell. Hazelnuts can be round and spherical or oblong and pointy in shape. Predominately used in baking, dairy, and confections industries, Hazelnuts provide high-quality monounsaturated fats. Hazelnuts have a bitter brown paper-thin skin that is usually removed before eating. Reddish-brown to dark brown in color with a cream to tan colored interior, Hazelnuts flavor is mild, yet richly sweet with a woodsy nutty flavor. Roasting, chopping, and grinding increases the volatile flavors of the hearty Hazelnut. Compatible with a wide variety of foods, the Hazelnut may be substituted for any other nut in a recipe. Rich in Vitamins B, C, and E, Hazelnuts are a great source of protein.
Ingredient Statement:
Hazelnuts. (Contains Tree Nuts)
Tasty and nutritious, Hazelnuts may be used in confectionery products, desserts, bread, stuffing, and as a breader. Substitute in any recipe using nuts. Hazelnuts woodsy, nutty flavor enhances any savory dish calling for nuts. Try making a Hazelnut Tart or use Hazelnuts with cranberry-pecan stuffing, or for a delicious entree use Hazelnuts for nut crusted pork tenderloin or turkey filbert casserole. Hazelnuts are delicious paired with wild rice and cherries.
Hazelnuts have been used as a snack food for the Paleo and Keto Diet plans. 
Recommended Preparation Instructions:
No preparation needed, just add to your recipe as called for.
Product Description
Hazelnuts grow wild in clusters on the Hazel Tree in temperate zones around the world. These nuts have a fuzzy outer husk that opens once it is ripened exposing another smooth, hard shell. The Hazelnut has brown skin that can be removed prior to use. These nuts may also be referred to as filberts and/or cobnuts, particularly when they are cultivated. Hazelnuts are rich in B vitamins and C and E. They are a good source of Protein
Physical
Color: Off white to dark beige.
Flavor: Typical of hazelnuts.
Size: Approximately ½ inch in diameter, round.
Chemical
Moisture: 5%
Sulfites: N/A
Heat Level: N/A
Ingredient Statement:
Hazelnuts.
Allergen Statement
Contains Tree Nuts.
Packaging & Storage
Shelf Life: Min 12 months (under optimum storage conditions).
Packaging: Polybag in box.
Storage Conditions: Store in a dry, cool place.
About Nutritional Information
Chieftain Wild Rice Company gathers nutritional information from highly regarded sources.  Nutritional analysis can vary due to growing conditions, frequency of testing, and other factors.
Nutrition Facts

Serving Size about 1/4 cup (30g)

Amount Per Serving

Calories 190

Calories from Fat 160

 

% Daily Value *

Total Fat 18g

28%

Saturated Fat 1.5g

8%

Trans Fat 0g

 

Cholesterol 0g

0%

Sodium 0mg

0%

Total Carbohydrate 5g

2%

Dietary Fiber 3g

12%

Sugars 1g

 

Protein 4g
 

Vitamin A

0%

Vitamin C

0%

Calcium

4%

Iron

6%

* The Percent Daily Values are based on a 2,000 calorie diet.