PILPELCHUMA SEASONING - Kosher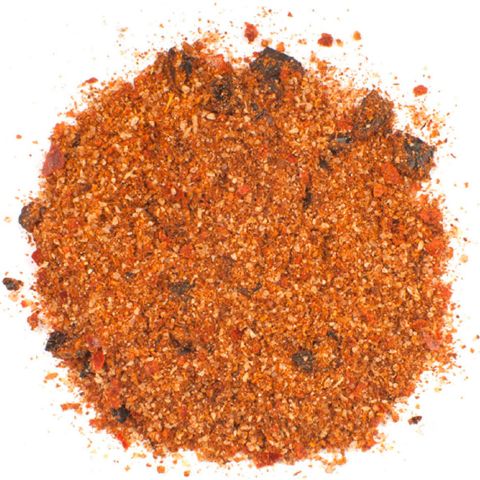 ---
PILPELCHUMA SEASONING - Kosher
PILP-18
Description:

Pilpelchuma, which translates to "pepper garlic" in Hebrew, is a spicy mix of crushed chiles and garlic. Our spice is handcrafted to recreate the intense flavors of the popular Libyan condiment. Pilpelchuma is common throughout Libya and Israel and is often compared to harissa.
This versatile spice consists of a blend of 5 varieties of ground chiles mixed with granulated garlic and other spices. It can be rehydrated with water to make a spicy chile paste or can be used dry. Chefs will enjoy the rich, bold flavor and strong spicy aroma of this aromatic seasoning. 


Ingredient Statement: Dried chiles, garlic, spices, honey powder (sugar, honey), salt, paprika, citric acid.
• Stir into the tomato sauce and toss with pasta for an easy take on Fra Diavolo
• Spread on salmon or pork chops before grilling
• Toss with root vegetables before roasting
Recommended Preparation Instructions:
Ready to use. Add to taste.
Nutrition Facts
Serving Size 1/4 tsp. -  (.5g)
Number of Servings
Amount Per Serving
Calories 0
Calories from Fat 0
 
% Daily Value *
Total Fat 0 g
0%
Saturated Fat  0 g
0%
Monounsaturated Fat  0 g
 
Polyunsaturated Fat  0 g
 
Trans Fat  0 g
 
Cholesterol  0 g
0%
Sodium 20 mg
1%
Potassium0  mg
0%
Total Carbohydrate  0 g
0%
Dietary Fiber  0 g
0%
Sugars 0  g
 
Protein  0 g
0%
Vitamin A
o%
Vitamin C
o%
Calcium
o%
Iron
o%
* The Percent Daily Values are based on a 2,000 calorie diet.