PIMENT DE ESPELETTE, FRENCH CHILE POWDER - Kosher/Gluten Free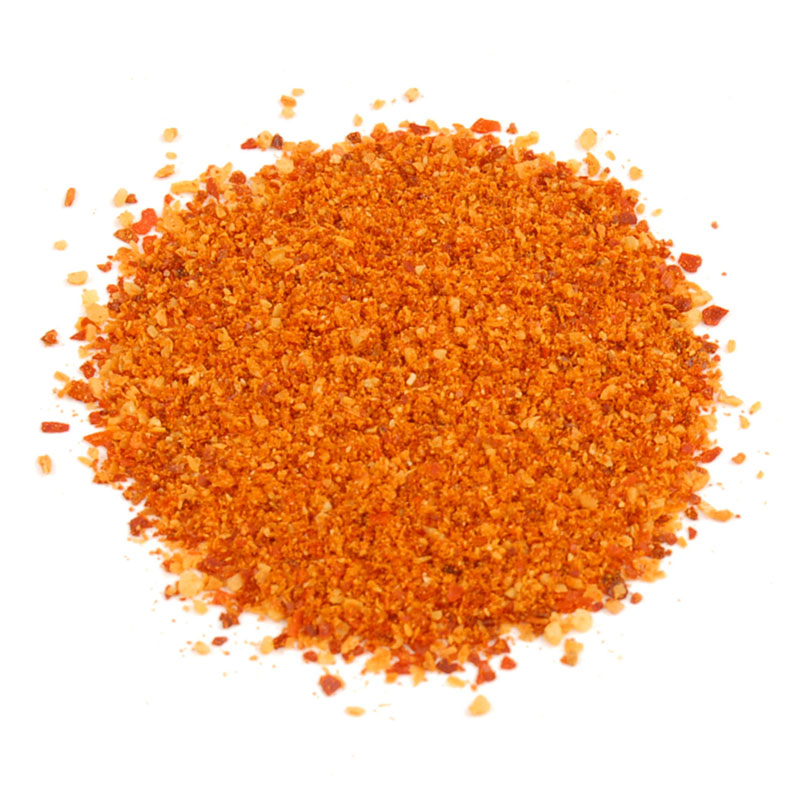 ---
PIMENT DE ESPELETTE, FRENCH CHILE POWDER - Kosher/Gluten Free
PIMENTE-8.8
Description:

This rare chile is acclaimed in southwestern France, notably established in just one region of the Nive Valley in the southwest, and especially in the village of Espelette to the south. The red pods of the Espelette Chiles are dried and then ground into powder. Portraying the heat between paprika and cayenne, this richly spicy pepper has gained controlled-name status. The Espelette Chile is popular for its use in candies and drinks made with chocolate. It may also be used in the making of hams, pates, sausages, rolls, and pies. Used by chefs in seafood dishes as a substitute for black pepper since it offers a sweeter, less bitter taste to it.
Ingredient Statement:
Chile Pepper
Try a dash on egg dishes, or sprinkle on meats. Piment de Espelette will add zest to your dishes without the scalding heat of most chiles. Sprinkle on sandwiches layered thick with caramelized onions and peppers and chunks of sausage and kraut or throw a pinch on your pasta dishes for a savory surprise!
Recommended Preparation Instructions:
No preparation required. Just add to the recipe as called for.
Product Description
This medium-heat chile is native to the southeast region of France. In late 1999, this pepper was recognized by the French National Institute of Appellations d'Origine and thus has its own Appellation d'Origine Controlee (AOC.) The piment d'Esplette is unique in its intensity of rich flavor without contributing too much heat to a dish.
Physical
Color: Reddish orange with no brown, visible yellow seeds.
Flavor: Typical of chile.
Size: Min 50% + US #30 screen.
Chemical
Moisture: Maximum 12%
Sulfites: N/A
Heat Level: N/A
Ingredient Statement:
Chile Pepper.
Allergen Statement
Contains no allergens.
Packaging & Storage
Shelf Life: Min 12 months (under optimum storage conditions).
Packaging: Polybag in box.
Storage Conditions: Store in a dry, cool place.
About Nutritional Information
Chieftain Wild Rice Company gathers nutritional information from highly regarded sources. Nutritional analysis can vary due to growing conditions, frequency of testing, and other factors.
Nutrition Facts

Serving Size 1/4 teaspoon (.5g)

Amount Per Serving

Calories 0

Calories from Fat 0

 

% Daily Value *

Total Fat 0g

0%

Saturated Fat 0g

0%

Trans Fat 0g

 

Cholesterol 0g

0%

Sodium 0mg

0%

Total Carbohydrate 0g

0%

Dietary Fiber 0g

0%

Sugars 0g

 

Protein 0g
 

Vitamin A

2%

Vitamin C

0%

Calcium

0%

Iron

0%

* The Percent Daily Values are based on a 2,000 calorie diet.