SEA SALT, SAFFRON PINK PEPPERCORN -Kosher/Gluten Free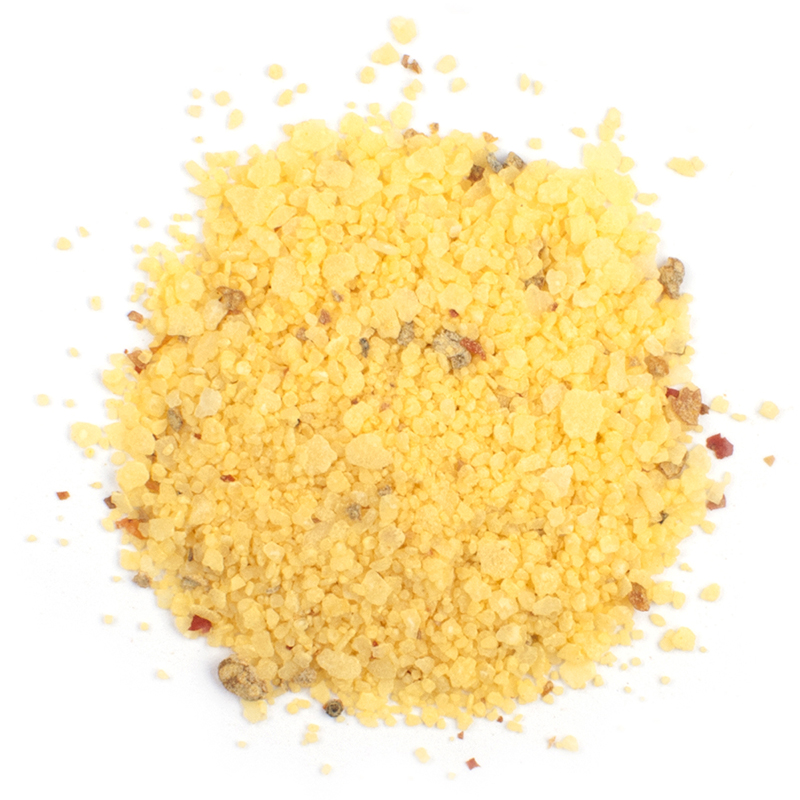 ---
SEA SALT, SAFFRON PINK PEPPERCORN -Kosher/Gluten Free
SAFFPINKSALT-32
Description:

Saffron-Pink Peppercorn Salt is an aromatic blend of natural sea salt seasoned with ground pink peppercorns and genuine saffron. This highly aromatic blend is a decorative yellow with specks of pink. Perfect as a finishing salt or seasoning for fish, seafood, salads, and more!
Ingredient Statement:
Salt, pink peppercorns, turmeric, saffron powder.
• Use as a finishing salt or rub for grilled steak, pork, poultry, and seafood
• Stands up to potent flavors like grilled fish, mustard-glazed meats, or strong cheeses
• Add to stir fry vegetables or salad dressings
• Try it sprinkled on fruit, like mango
• Savor a dash on the highest-quality filet or braised short rib
Recommended Preparation Instructions:
Ready to use. Add to taste.
Nutrition Facts
Serving Size 1/4 tsp.  -  (1g)
Number of Servings
Amount Per Serving
Calories 0
Calories from Fat 0 
 
% Daily Value *
Total Fat 0  g
0%
Saturated Fat g
0%
Monounsaturated Fat  0 g
 
Polyunsaturated Fat  0 g
 
Trans Fat  0 g
 
Cholesterol 0  g
0%
Sodium 370 mg
15%
Potassium0  mg
0%
Total Carbohydrate 0g
0%
Dietary Fiber 0  g
0%
Sugars  0 g
 
Protein 0  g
0%
Vitamin A
0%
Vitamin C
0%
Calcium
0%
Iron
0%
* The Percent Daily Values are based on a 2,000 calorie diet.