SALT FREE ORGANIC GARLIC HERB SEASONING (OG) - Kosher/Gluten Free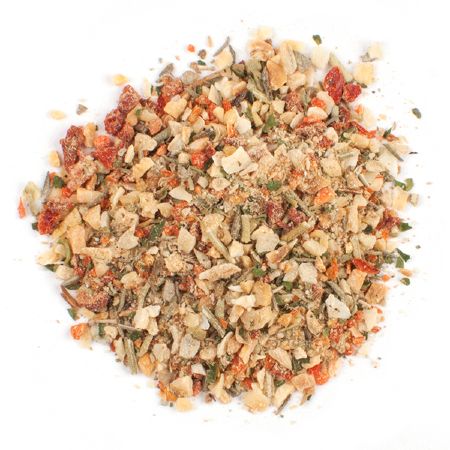 ---
SALT FREE ORGANIC GARLIC HERB SEASONING (OG) - Kosher/Gluten Free
SFGARLIC-18
Description:

Organic Salt-Free Garlic Herb Seasoning is a classic blend of savory garlic and onion, aromatic vegetables, and a medley of fragrant herbs. Chefs can use this fragrant seasoning to add a balanced, herbaceous flavor to anything from meat and seafood to pasta and potatoes. Add this bold-flavored seasoning to salads, potatoes, rice, vegetables and meats. 
Ingredient Statement:
Organic dehydrated vegetables [garlic (including roasted), onion, carrot, tomato, red bell pepper, and green bell pepper], organic spices (including mustard), organic orange peel, organic lemon peel, citric acid. (Contains mustard)
Recommended Preparation Instructions:
Ready to use as is. Sprinkle this tasty seasoning on salads or potatoes, whisk into soups and stews or blend into rice or pasta sauce.