WILD RICE SEASONING - CHIEFTAIN CLASSIC SAGE - Gluten Free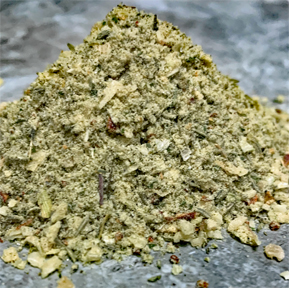 ---
WILD RICE SEASONING - CHIEFTAIN CLASSIC SAGE - Gluten Free
SAGE-5
Description:

5.0 oz. Package will season 2# of Rice
Chieftain's Classic Sage Seasoning is a mouth-watering, explosion of flavor reminiscent of the Holiday Season! Made with a combination of spices, herbs, and vegetables this blend is the perfect compliment to wild game, pork and lamb. Roll breadsticks in butter then season lightly with our seasoning and bake for a delicious snack! 
Ingredient Statement:
Dehydrated Onion, Salt, Hydrolyzed Corn Protein, Spices, Sugar, Dextrose, Dehydrated Red Bell Pepper, Autolyzed Yeast, Garlic Powder, Parsley Flakes, and Corn Oil added as a blending aid. 
Enhance your meat, vegetables or breads with our Classic Sage Seasoning. Can be added to croutons to make stuffing for your poultry or used with rice as a gluten free alternative to dressing. 
Recommended Preparation Instructions:
Add 3 tablespoons to 1 cup uncooked rice. Cook rice as directed.