WILD RICE SEASONING - CHIEFTAIN SMOKY CHIPOTLE SEASONING - Gluten Free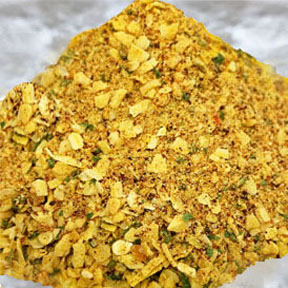 ---
WILD RICE SEASONING - CHIEFTAIN SMOKY CHIPOTLE SEASONING - Gluten Free
CHIPOTLE-5
Description:

5.0 oz. Package will season 2# of Rice 
Chieftain's seasonings are specifically formulated for our rice blends giving them a savory flavor that will compliment any entree. Smoky Chipotle seasoning offers the smoldering flavor of chipotle and hickory combined with undertones of vegetables, herbs and spices. There are no added MSG, sulfites, trans fats or gluten. 

Ingredient Statement:
Dehydrated Onion, Salt, Hydrolyzed Corn Protein (10%), Sugar, Chili Pepper, Tomato Powder, Chardex Hickory, (maltodextrin, Smoke Flavor, Silicon Dioxide), Autolyzed Yeast, Spice, Dehydrated Rd Bell Peppers, Parsley Flakes, Garlic Powder, Spice Extractives, including Turmeric.
Smoky Chipotle Seasoning can be used in dips, as a meat rub, in vinaigrettes and as a seasoning for rice, grains, and vegetables. Our Chipotle Seasoning pairs well with any type of wild game, poultry, fish, seafood, pork or lamb. Use as a bold flavorful seasoning for vegan or vegetarian dishes. 
Recommended Preparation Instructions:
Add 3 tablespoons to 1 cup uncooked rice. Cook rice as directed.
Ingredient Statement:
Dehydrated onion, salt, hydrolyzed corn protein (10%), sugar, chili pepper, tomato powder, chardex hickory (maltodextrin, smoke flavor, silicon dioxide), autolyzed yeast, spice, dehydrated red bell peppers, parsley flakes, garlic powder, spice extractives including turmeric.
Allergen Statement:
Contains no allergens.
Packaging & Storage:
Shelf Life:  Maximum 1 year (under optimum storage conditions).
Packaging:  5 oz. pouch.
Storage Conditions:  Store in a dry, cool place in an airtight container.
About Nutritional Information
Chieftain Wild Rice Company gathers nutritional information from highly regarded sources.  Nutritional analysis can vary due to growing conditions, frequency of testing, and other factors. 
Seasoning consumed per 1/2 cup serving of rice based on a 3.5 cup rice yield with recommended seasoning ratio of 3 Tbsp. per 1 cup uncooked rice.