RISOTTO SPINACH FLORENTINE - Kosher/Gluten Free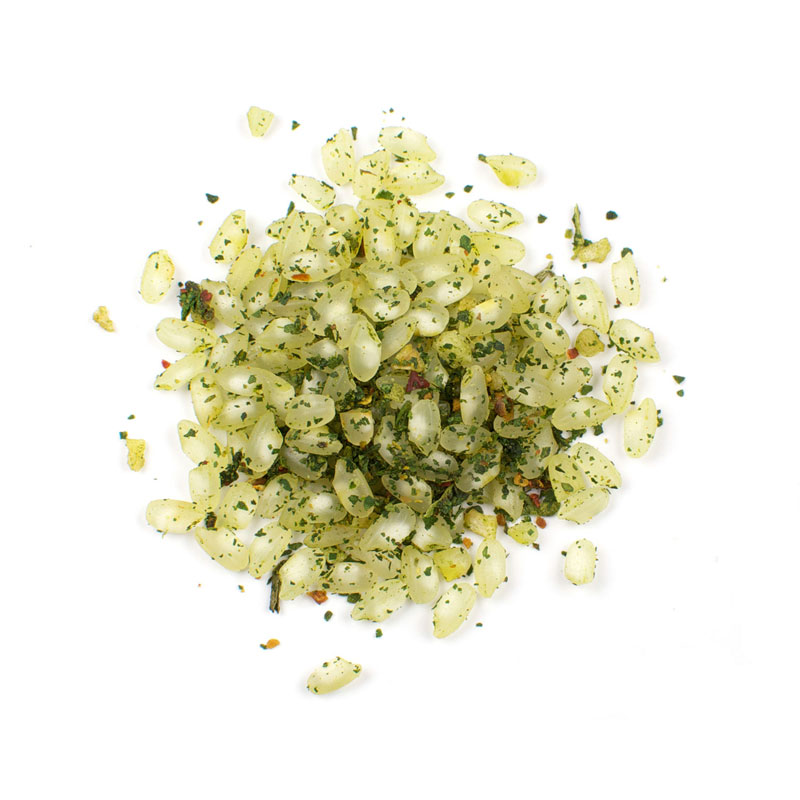 ---
RISOTTO SPINACH FLORENTINE - Kosher/Gluten Free
SPINRISO-10
Description:

Chieftain's Spinach Florentine Risotto Rice combines premium short grain rice, fragrant spinach and subtle spices. This makes for a convenient way for chefs to achieve the classic Italian flavor of a risotto from Florence. This absorbent mix of Arborio rice and spinach with aromatics and traditional seasoning cooks to a creamy and velvety risotto. 
Ingredient Statement:
Arborio rice, minced onion, dried spinach, contains 2% or less canola oil, bell pepper, garlic, salt, dried chiles, lemon peel, spices, natural flavor.
• Serve as savory side instead of stuffing
• Add a healthy serving of steamed vegetables for hearty vegetarian meal
• sund dried tomatoes and pine nuts
• Pair with simply prepared cooked fish, chicken or lamb

Recommended Preparation Instructions:
Heat 1 quart water or chicken stock to simmer and reserve. Heat 1 tablespoon olive oil in large saucepan over medium heat. Add 1 cup Spinach Florentine Risotto and stir quickly until rice is well coated and opaque, about 2 minutes. Add 1 cup warm liquid to rice. Cook, stirring, until rice has absorbed liquid. Add remaining liquid 1 cup at a time, cooking and stirring until rice absorbs all the liquid after each addition and rice is tender but firm.
Nutrition Facts
Serving Size 1/4 - (53g)
Number of Servings
Amount Per Serving
Calories 190
Calories from Fat 10
 
% Daily Value *
Total Fat  1 g
2%
Saturated Fat  0 g
0%
Monounsaturated Fat  0 g
 
Polyunsaturated Fat  0 g
 
Trans Fat  0 g
 
Cholesterol  0 g
0%
Sodium  120 mg
5%
Potassium 0 mg
0%
Total Carbohydrate  41 g
14%
Dietary Fiber  1 g
4%
Sugars  1 g
 
Protein  4 g
 
Vitamin A
25%
Vitamin C
20%
Calcium
2%
Iron
4%
* The Percent Daily Values are based on a 2,000 calorie diet.