BANANA CHIPS, SWEETENED - Kosher/Gluten Free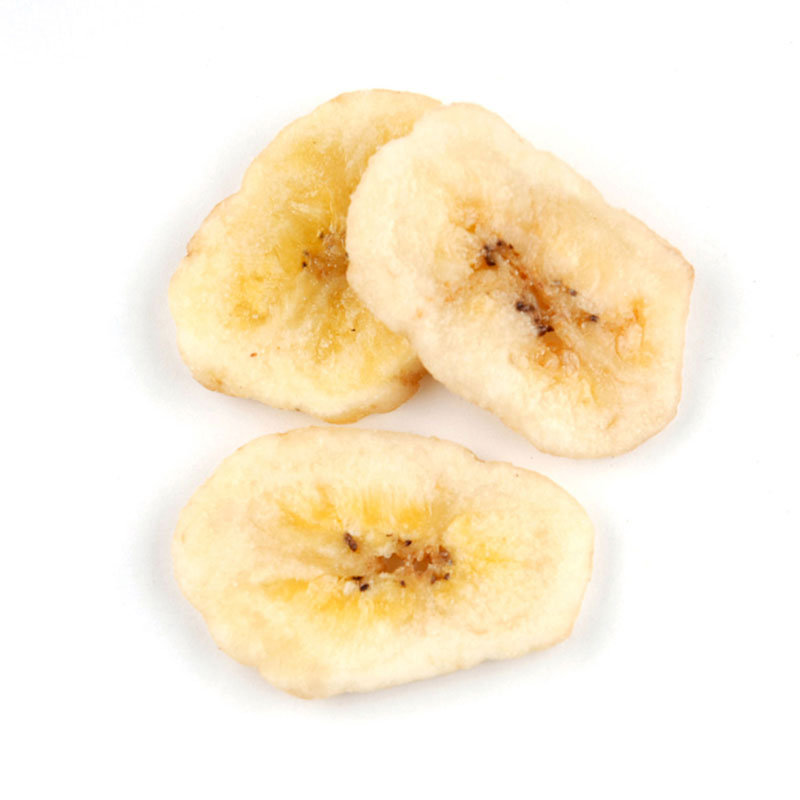 ---
BANANA CHIPS, SWEETENED - Kosher/Gluten Free
BANA-5
Description:

Bananas grow in warm and humid climates. They are one of our most popular fruit and one of the few fruits that develop better flavor when ripened off the bush! There are many banana species but the most favorite variety is the sweet and yellow Cavendish. Banana plants usually mature in 15 months and can produce up to a 50-pound bunch of bananas apiece. While growing, the banana ends point up the tree giving the illusion that they are growing upside down. Dried Banana Chips are easy and convenient to use in recipes for desserts, salads, sauces, trail mix, cereals, cakes, frozen desserts, puddings, and more! Bananas are high in carbohydrates but low in protein and fats. They can be consumed, right out of the bag, or as a snack mixed with nuts, grains, and other dried fruit.
Ingredient Statement:
Banana, Coconut Oil, Sugar, Natural Banana Flavor.
Use as a healthy alternative to fat-laden snacks. Make your own snack mix with Banana Chips, dried cherries, pineapple, apricots, raisins, nuts, and seeds. Banana Chips are a convenient treat to bring along on family trips and school outings. Add Banana Chips to your favorite pudding and baked dessert recipes.
Recommended Preparation Instructions:
There is no preparation needed for dried fruit. If used in baking, you may want to rehydrate. To rehydrate dried fruit, pour boiling water over the fruit and let sit covered for 5 to 10 minutes. Drain well before using it.
Product Description
Bananas grow in humid, tropical climates. The Banana is one of America's favorite fruits, the variety most often consumed is the Cavendish - a sweet, yellow variety. A banana plant will mature in 15 months, at that time each bush will produce a 50-pound bunch of bananas. When bananas grow, the ends point up the tree so it looks like they are growing upside down. Dried Banana Chips are mechanically dried.
Physical
Color: Off white, creamy, yellowish.
Flavor: Typical of bananas, slightly sweet.
Size: Approximately ¾ to ½ inch wide, 1/8 inch thick.
Chemical
Moisture: 10%
Sulfites: N/A
Ingredient Statement:
Banana, Coconut Oil, Sugar, Natural Banana Flavor.
Allergen Statement
Contains no allergens.
Packaging & Storage
Shelf Life: Min 12 months (under optimum storage conditions).
Packaging: Polybag in box.
Storage Conditions: Store in a dry, cool place.
About Nutritional Information
Chieftain Wild Rice Company gathers nutritional information from highly regarded sources. Nutritional analysis can vary due to growing conditions, frequency of testing, and other factors.
Nutrition Facts
Serving Size 3/8 cup (40g)
Amount Per Serving
Calories 210
Calories from Fat 120
 
% Daily Value *
Total Fat 13g
20%
Saturated Fat 12g
60%
Trans Fat 0g
 
Cholesterol 0g
0%
Sodium 0mg
0%
Total Carbohydrate 23g
8%
Dietary Fiber 3g
12%
Sugars 14g
 
Protein 1g
 
Vitamin A
0%
Vitamin C
4%
Calcium
0%
Iron
2%
* The Percent Daily Values are based on a 2,000 calorie diet.