WESTWOOD BLEND - Naturally Gluten Free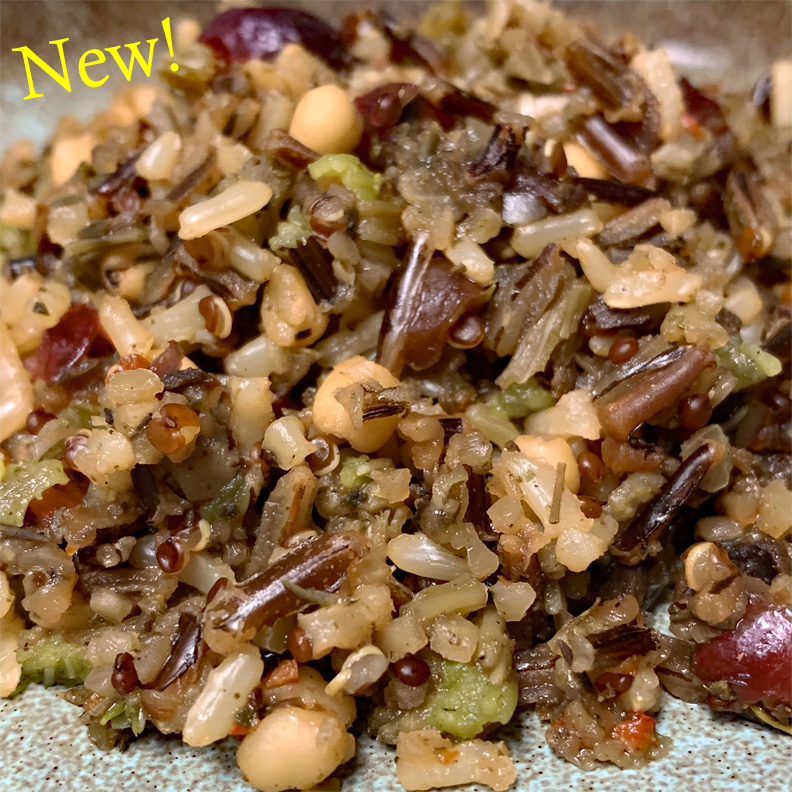 ---
WESTWOOD BLEND - Naturally Gluten Free
WEST-2
Description:

Dry Roasted Wild Rice®, Brown Rice, Cranberry (cranberries, sugar & sunflower oil), Chickpeas, Quinoa, Celery, Onion, and Mushrooms.
Enjoy the flavor of this delicious blend that is reminiscent of Thanksgiving stuffing when paired with our Classic Sage Seasoning! Can be used to stuff pork loin, chicken breasts, cornish hens, and fish.  
A great alternative to regular stuffing for those with gluten intolerance.
Perfect as a bedding for fish and seafood or with wild game like venison.
Excellent with Chieftain's Classic Sage or Chieftain's Garlic Peppercorn Seasoning.
Approximate cost per ½ cup serving: 26¢.
Approximate yield per cup: 4 cups.
½ Cup Servings per: 1# = 20 
WESTWOOD BLEND
Product Description
When seasoned with Chieftain's Sage seasoning, you have a sensational stuffing substitution that is gluten free!  Pair it with chicken or pork for a complete meal year-round.
Physical
Color: Light to dark brown, green, red and black tones.
Flavor: Typical of mixed rice, grains and vegetables.
Size: Rice and grain, small bean, fruit and vegetable shapes.
Chemical  
Sulfites: N/A 
Heat level: N/A
Ingredient Statement:
Dry Roasted Wild Rice®, brown rice, cranberry (cranberries, sugar & sunflower oil), Chickpeas, Quinoa, Celery, Onion, Mushroom
Allergen Statement Contains no allergens
Packaging & Storage
Packaging: 2 lb. food grade poly bags in a box
Shelf Life: Maximum 1 year (under optimum storage conditions).
Storage Conditions: Storage environment should be cool and dry (less than 70% RH) and free from undesirable odors.
Recommended Preparation Instructions
Combine 1 cup rice mix, 3 ½ cups water, 1 tablespoon cooking oil or butter and 3 tablespoons Chieftain Seasoning and bring to a boil. Reduce heat and simmer covered for 45-50 minutes. Let set for 10 minutes; fluff with a fork before serving.
1 cup of dry will yield 4 cups.
About Nutritional Information
Chieftain Wild Rice Company gathers nutritional information from highly regarded sources. Nutritional analysis can vary due to growing conditions, frequency of testing, and other factors.