AMARANTH - Kosher/Gluten Free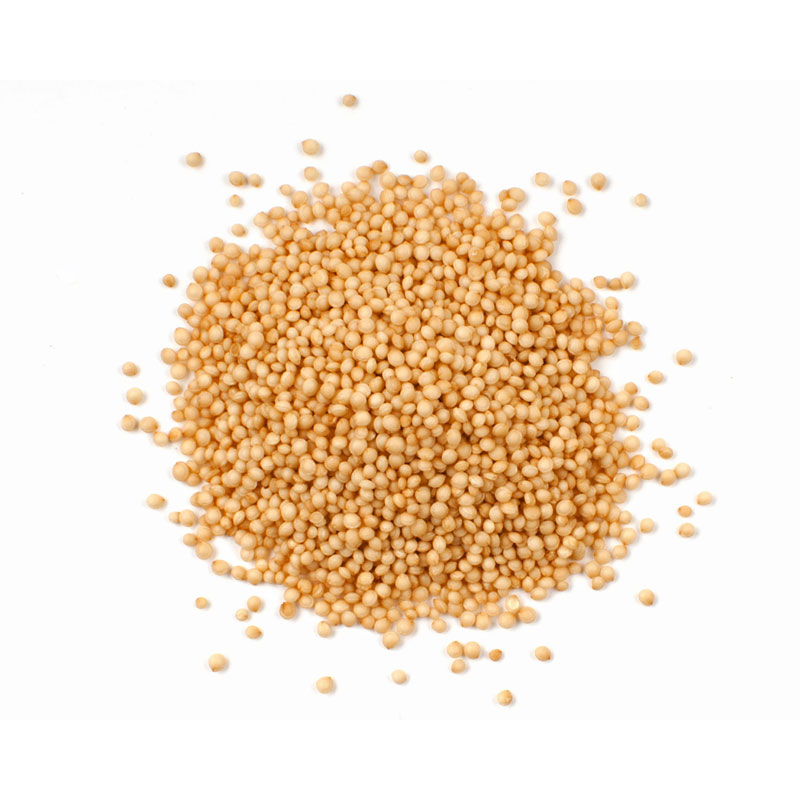 ---
AMARANTH - Kosher/Gluten Free
AMR-10
Description:

The name Amaranth hails from the Greek for "never-fading flower." Amaranth seed is high in protein and fiber; it also contains calcium, iron, potassium, phosphorus, and Vitamins A and C. When cooked Amaranth has a chewy texture making it popular as a hot breakfast cereal. The seeds are flavorful, mildly sweet, and nutty with a corn-like aroma and woodsy peppery taste. Amaranth is very versatile; it can be used as a substitute for wheat and can be used as a nutrient-dense thickening agent in soups and stews.
Ingredient Statement:
Amaranth.
Amaranth can be cooked as a cereal, ground into flour, and used in making pasta and baked goods. It must be mixed with other flours for baking yeast bread, as it contains no gluten. Amaranth can be popped like popcorn, sprouted, or toasted, added to cold salads, or used instead of rice with stir-fry. Use Amaranth to bread pork, fish, or chicken.
Recommended Preparation Instructions:
It is best to toast amaranth prior to cooking to bring out its nutty flavor. Simmer 1 cup of amaranth and 2½ cups of water for 20 minutes. 
One cup dry yields 2½ cups cooked.
Product Description
Amaranth is a very ancient grain, sacred food of the Aztecs and Incas. These are tiny round grains, gold in color with flecks of black and just smaller than a mustard seed. Amaranth is high in protein and vitamins with a crunchy texture (requires attentive chewing) with a pleasant fresh corn-like aroma and woodsy peppery flavor. Amaranth is very versatile, can be used as a sub for wheat (esp. for allergy-prone). Amaranth is actually not a grain but a seed from a broadleaf herb plant.
Physical
Color: Golden with black specs.
Flavor: Woodsy, peppery.
Size: Min 90% on a U.S. #20 sieve, tiny, round seeds.
Chemical
Moisture: N/A
Sulfites: N/A
Ingredient Statement:
Amaranth.
Allergen Statement
Contains no allergens.
Packaging & Storage
Shelf Life: Min 12 months (under optimum storage conditions).
Packaging: Polybag in box.
Storage Conditions: Store in a dry, cool place.
About Nutritional Information
Chieftain Wild Rice Company gathers nutritional information from highly regarded sources. Nutritional analysis can vary due to growing conditions, frequency of testing, and other factors.
Nutrition Facts
Serving Size about 1/4 cup (45g)
Amount Per Serving
Calories 170
Calories from Fat 25
 
% Daily Value *
Total Fat 3g
5%
Saturated Fat .5g
3%
Trans Fat 0g
 
Cholesterol 0mg
0%
Sodium 0mg
3%
Total Carbohydrate 29g
10%
Dietary Fiber 3g
12%
Sugars 1g
 
Protein 6g
 
Vitamin A
0%
Vitamin C
4%
Calcium
8%
Iron
20%
* The Percent Daily Values are based on a 2,000 calorie diet.