QUINOA - Gluten Free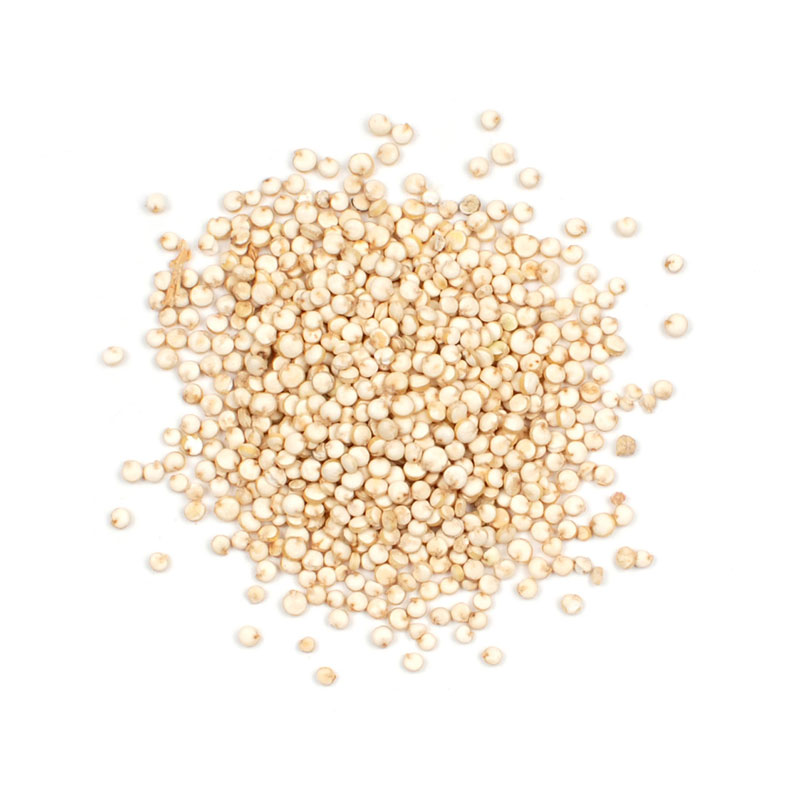 ---
QUINOA - Gluten Free
QU-10
Description:

Quinoa is an ancient heirloom grain and the Quinoa that Chieftain provides is not genetically modified or a hybrid. Cleaned by a unique washing method and not polished, our whole grain Quinoa is an excellent source of high-quality protein, dietary fiber, and iron. It is referred to as "the super grain of the future". Quinoa contains more protein than any other grain and is considered a complete protein because it contains all eight essential amino acids. Even the United Nations World Health Organization observes that Quinoa is closer to the ideal protein balance than any other grain. Higher in unsaturated fats and lower in carbohydrates than other grains, it provides a balanced source of vital nutrients. Quinoa is high in Vitamins B & E, iron, zinc, potassium, and calcium. Quinoa is the seed of the Goosefoot Plant and there are three main varieties that are cultivated, White Quinoa, Black Quinoa, and Red Quinoa.
Quinoa is a most welcome addition to vegetarian diets. Quinoa is also perfect for those with food sensitivities, including gluten, wheat, and soy intolerances.
Chieftain purchases our quinoa from a fair trade company, ensuring that the indigenous farmers and artisans they work with receive fair compensation. Our quinoa hails from Ecuador, which has grown to be one of the most successful fair trade projects in South America.
Quinoa has a gentle, slightly nutty flavor and is versatile when cooked and can be molded or shaped. Quinoa is a good substitute for Couscous or Bulgur in many dishes. Quinoa seeds are small like Millet but are flat with an oval shape. When cooked the outer germ circlet falls from the seed, forming a little white spiral tail, which is attached to the kernel. This circlet remains crunchy while the grain is soft, delicate, and pearly translucent.
Ingredient Statement:
Quinoa.
The mild flavor of Quinoa makes it a great substitute for Couscous or Bulgur. Sprouted Quinoa has a nutty flavor and is great in salads. As a side dish Quinoa can be cooked using a flavored liquid such as broth; or it makes a great ingredient in casseroles and baked stuffed vegetables.
Recommended Preparation Instructions:
Bring 1 cup quinoa and 2 cups water or stock to a boil. Reduce heat and simmer for 15 minutes. The grain will pop and the outside germ will separate into a curly tail.
One cup dry yields 2 – 2½ cups cooked.
Product Description
Quinoa was a widely used grain by the Incas and has been grown in the Andes for centuries. The Quechua name for Quinoa translates as "The Mother Grain" or "Super Grain". When cooked, the thin germ circlet falls from the seed and remains crunchy while the grain, pearly and translucent, melts in your mouth. Quinoa is an excellent source of high-quality protein, dietary fiber, and iron.
Physical
Color: Golden with black specs.
Flavor: Nutty.
Size: Approximately 95% over US #20 sieve, round grains.
Chemical
Moisture: 13%
Sulfites: N/A
Heat Level: N/A
Ingredient Statement:
Quinoa.
Allergen Statement
Contains no allergens.
Packaging & Storage
Shelf Life: Min 12 months (under optimum storage conditions).
Packaging: Polybag in box.
Storage Conditions: Store in a dry, cool place.
About Nutritional Information
Chieftain Wild Rice Company gathers nutritional information from highly regarded sources. Nutritional analysis can vary due to growing conditions, frequency of testing, and other factors.
Nutrition Facts

Serving Size 1/4 cup (45g)

Amount Per Serving

Calories 170

Calories from Fat 25

 

% Daily Value *

Total Fat 2.5g

4%

Saturated Fat 0g

0%

Trans Fat 0g

 
Cholesterol 0g

0%

Sodium 0mg

0%

Total Carbohydrate 29g

10%

Dietary Fiber 3g

12%

Sugars 0g

 
Protein 6g
 

Vitamin A

0%

Vitamin C

0%

Calcium

2%

Iron

10%

* The Percent Daily Values are based on a 2,000 calorie diet.