FIGS, GOLDEN - Kosher/Gluten Free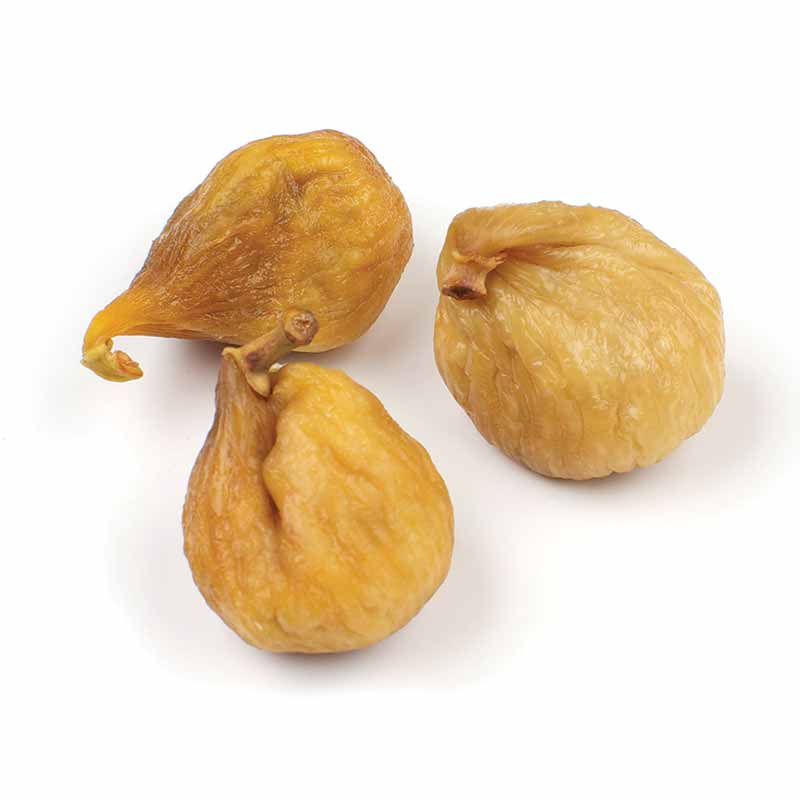 ---
FIGS, GOLDEN - Kosher/Gluten Free
GFIG-5
Description:

Figs come in two main categories, dark and light. The Golden Fig, a light-colored Fig, is one of the most well-known varieties of figs. Figs are believed to have originated in Asia Minor. Figs are very similar to dates in sweetness and texture but they are larger. The best time for Figs is November to January when the new crop has been harvested. While fresh the figs keep their shiny yellow-orange color but for the rest of the year, the Figs are considered old crop. As they age, Figs will crystallize with sugar, making them appear white and almost moldy on the outside but having no effect on the figs themselves. During the off-season, expect Figs to crystallize within 2-4 weeks after purchase. All Figs are a good source of iron, calcium, and phosphorus. Figs played a valuable part in the diet of ancient Greeks who fed figs to their athletes, the Spartans, believing the fruit encouraged strength and swiftness. Feeding the athletes figs with their high sugar content would be similar to feeding them a candy bar today!
Ingredient Statement:
Golden Figs, Potassium Sorbate, Sulfur Dioxide added as a preservative.
Our Golden Figs are Sun-dried and contain sulfites.
Make a Fig compote and drizzle over flapjacks or ice cream. Toss into a salad or try in a balsamic chutney, add to cakes, tarts, jams, sauces, cereals, and stuffing. Dip in chocolate or eat them just plain! Perfect for desserts like cookies, baked apples, rice, and bread puddings.
Recommended Preparation Instructions:
Remove pits before eating or adding to recipes. There is no preparation needed for dried fruit. If used in baking, you may want to rehydrate. To rehydrate dried fruit, pour boiling water over the fruit and let sit covered for 5 to 10 minutes. Drain well before using it.
Product Description
Golden Figs are one of the best-known varieties of figs. Figs come in two major categories, light and dark. The Golden Figs are of the light variety. Figs are similar to dates in sweetness and texture but they are larger. Golden Figs are Sun-dried.
Physical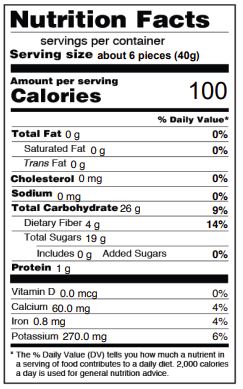 Color: Light yellow, orange.
Flavor: Typical of figs.
Size: Varies, approximately 1-1¼ inch in length, oblong shape.
Chemical
Moisture: 30%
Sulfites: Yes
Heat Level: N/A
Ingredient Statement:
Golden Figs, Potassium Sorbate, Sulfur Dioxide added as a preservative.
Allergen Statement
Contains no allergens.
Packaging & Storage
Shelf Life: Min 12 months (under optimum storage conditions).
Packaging: Polybag in box.
Storage Conditions: Store in a dry, cool place.
About Nutritional Information
Chieftain Wild Rice Company gathers nutritional information from highly regarded sources. Nutritional analysis can vary due to growing conditions, frequency of testing, and other factors.
FUN FACTS FOR FIGS…
Figs are one of the oldest know fruits in the world.
Figs were known as the "Poor man's food."
Dried Figs are high in fiber, iron, and minerals.
Fig trees can grow to a height of over 100 feet tall!
Figs are the fruit mentioned most often in the Bible.
Figs have mild laxative qualities.
Figs produce protein-digesting enzymes that break down muscle and connective tissue in meat, making them an excellent tenderizer as well as flavor-enhancer.
When chopping dried figs by hand with a knife or scissors, dip the cutting implement into warm water occasionally to prevent sticking.
If dried figs seem hard or too dry, they can be soaked, steamed, or poached to restore moisture. Use wine or juice!
Dried figs can be used interchangeably with prunes, dried apricots, and dates in most recipes.
1 # dried figs = 44 whole figs ~ 1 # dried figs= 3 cups chopped
Dried Fig Relish 
2/3 cup pomegranate seeds
1/4 cup diced dried Golden figs
1 teaspoon chopped fresh mint
1 teaspoon balsamic vinegar
1 teaspoon pomegranate molasses
3 teaspoons olive oil, divided
1/4 teaspoon cumin seeds, lightly crushed, divided
Combine all ingredients and let sit for 15 minutes.  Use with pork, lamb, or veal.
Figs and Dried Cherries Poached in Vanilla-Honey Syrup with Nuts
2 cups water or half water and half juice 
1/4 cup sugar
1/2 cup honey
1/2 vanilla bean, split in half lengthwise
8-oz dried Calimyrna Figs, stemmed, halved lengthwise
1/3 cup dried tart cherries
3/4 cup plain nonfat yogurt (optional)
3 tablespoons chopped almonds or unsalted pistachios
Combine 2 cups water/juice & sugar in a heavy medium saucepan. Bring to boil over medium-high heat, stirring until sugar dissolves. Stir in honey. Scrape in seeds from vanilla bean; add bean. Add figs & bring to boil. Reduce heat to medium-low; cover & simmer 15 minutes. Add dried tart cherries; cover & simmer until figs and dried cherries are tender, about 10 minutes longer. Transfer fig mixture to a bowl. Chill until cold, about 3 hours. (Fig mixture can be made 1 day ahead. Cover & keep refrigerated.) Discard vanilla bean. Divide fig mixture among 6 bowls. Top each serving with a dollop of yogurt if desired. Sprinkle with pistachios. 
Prosciutto-Wrapped Figs 
1 cup red wine
24 dried figs
2 tablespoons sugar
24 slices Prosciutto di Parma, thinly sliced
1/2 cup shallots, diced
3 ounces Gorgonzola, in 24 chunks
24 chives
Winter fruits (oranges, pears, grapes)
Remove stems from figs. In a small saucepan, bring wine to a boil. Add figs; simmer, covered, until figs are tender, about 5 minutes. Remove figs and reserve.
Add sugar to the wine remaining in the saucepan; simmer until reduced to 1/4 cup; reserve for later use.  Fold each prosciutto slice in half to make 4-1/2 x 4-inch rectangles.
Cut a cross in the top of each fig. Place a piece of Gorgonzola in each cross, pressing slightly.  Place a stuffed fig in the center of each prosciutto rectangle. Bring the ham up and around fig to make a pouch. Tie with a chive. Repeat. To serve, arrange 3 pouches on each plate. Drizzle plate with a wine reduction. Garnish with fruits.