ANASAZI BEANS - Kosher/Gluten Free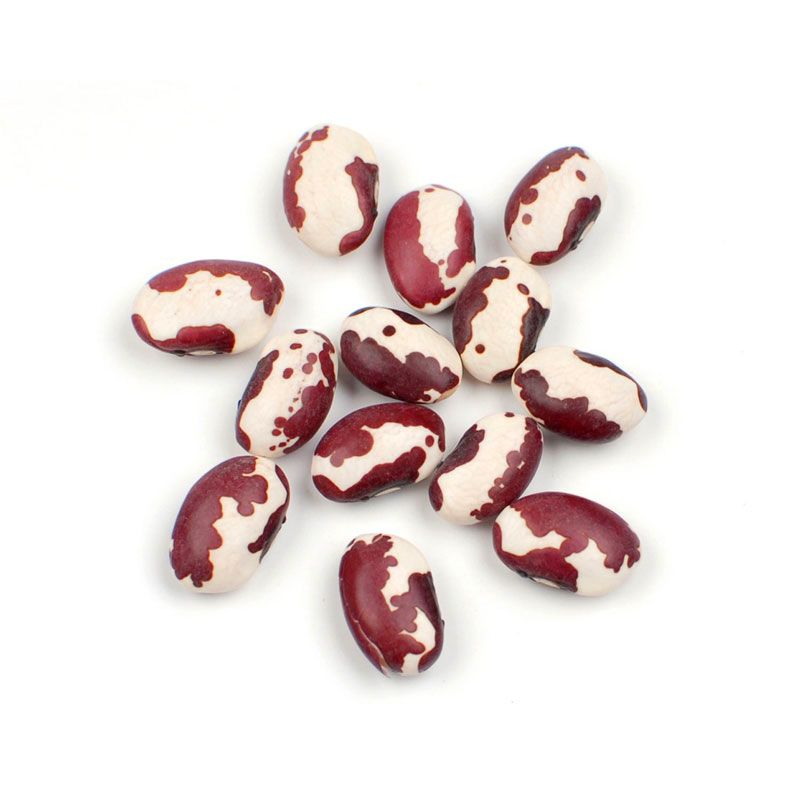 ---
ANASAZI BEANS - Kosher/Gluten Free
ANA-10
Description:

Anasazi Beans, also called Cave Bean, are a small legume related to the Kidney Bean. These beans are ½ inch long, kidney-shaped, with a sweet, mild flavor and mealy, firm texture. Dappled burgundy and cream colors, Anasazi Beans resemble the colors and markings of the "painted horse". This bean will fade when cooked to form a dark pink.
Compared to other beans, it contains only 25% of the specific complex carbohydrates that produce gastric distress, making it a popular addition to soups, casseroles, and even burgers!
A great substitute for pinto beans.
Ingredient Statement:
Anasazi Beans.
Heirloom Bean
Anasazi beans are a hearty addition to chili, casseroles, burgers, and soups and commonly can replace Pinto Beans in any recipe. Great for refried beans and exceptional when mixed with hot chiles, cilantro, and lime. Soak and cook, 1 cup dry yields about 2 ¼ cups cooked.
Recommended Preparation Instructions:
Soak overnight.  Rinse and place in a large pot and cover with fresh water.  Bring water to a boil for 3 minutes, reduce heat, and simmer, covered, for 1 hour or until tender. 
One cup dry yields 3 cups cooked.
Product Description
Anasazi Beans, also called Cave Bean, are a small legume related to the Kidney Bean. Anasazi is a Navajo word meaning "Ancient Ones" and the cultivation of this bean is traced back to the Anasazi Indians who lived in the Southwestern region of America. One of the few crops grown by Native Americans, the beans name comes from the Anasazi Tribes of the four corners area (where Colorado, Utah, Arizona & New Mexico come together).
Physical
Color: Dappled burgundy and cream color.
Flavor: Typical of beans, mild.
Size: Approximately ½ inch in length, kidney-shaped.
Chemical
Moisture: N/A
Sulfites: N/A
Ingredient Statement:
Anasazi Beans.
Allergen Statement
Contains no allergens.
Packaging & Storage
Shelf Life: Min 12 months (under optimum storage conditions).
Packaging: Polybag in box.
Storage Conditions: Store in a dry, cool place.
About Nutritional Information
Chieftain Wild Rice Company gathers nutritional information from highly regarded sources. Nutritional analysis can vary due to growing conditions, frequency of testing, and other factors.
Nutrition Facts
Serving Size 1/4 cup (35g)
Amount Per Serving
Calories 120
Calories from Fat 0 
 
% Daily Value *
Total Fat 0g
0%
Saturated Fat 0g
0%
Trans Fat 0g
 
Cholesterol 0g
0%
Sodium 5mg
0%
Total Carbohydrate 21g
7%
Dietary Fiber 5g
20%
Sugars 1g
 
Protein 8g
 
Vitamin A
0%
Vitamin C
0%
Calcium
8%
Iron
20%
* The Percent Daily Values are based on a 2,000 calorie diet.